Little Details with the Cal Spyder
1/11/08
Little Details with the Cal Spyder
Cal Spyder 1411 is an interesting car. From what I know of the car's history, it was ordered with some special details. Many of the trim pieces and handles were made from solid stainless steel like this trunk lock. The story I heard was the original owner was a Stainless Steel industrialist, but was wondering if anyone can confirm this story.

As I we were detailing the car, I found the oil filler caps still with their original finish. I often see these caps polished to a high shine at some of the shows I go to. Once the surface of these caps are polished, it will be near impossible to get the machined surface back. Another pet peeve of mine is when people take the paint off the Ferrari logo on the valve covers to have the letters show in bare aluminum, or worse, paint them red! To quote François, "Ferrari never deed dees, so doan touch!"

The dipstick handle can be left open for discussion on shine. I don't know how shiny these were originally, but I don't seem to mind seeing a shiny handle. Alvin and I decided to keep some of the deeper nicks and scratches in the handle so we could keep some of the patina that accumulated over the years. The next step is to buff this handle to a nice shine.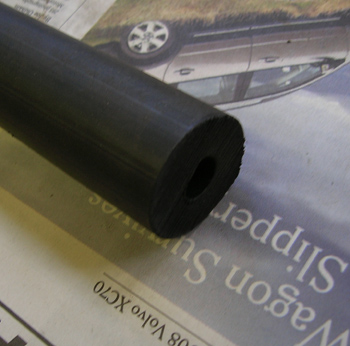 I had some rubber stock left over from my car restoration, so brought it over to François' to help with mounting the rear bumper.

Cut down to size and tightened down, these rubber pieces work great for the bumper ends. (François covered the bumper with blue tape so they wouldn't accidentally get scratched.)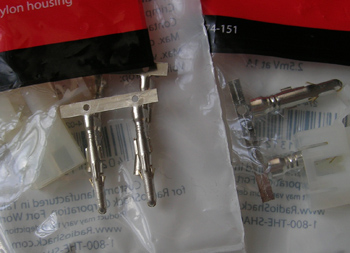 I found the the electrical connectors I was looking for on my last post! Thanks to Josh for pointing out that they were available right under my nose at Radio Shack! I also want to thank all the guys that offered to send some to me, but I decided to pick some up locally to save everyone the trouble of mailing me some. They were only a couple of bucks a pack.
Radio Shack has been a life saver for many of us who need electronics supplies. They're a chain of electronic stores that not only sell radios and cell phones, but also sell solder, spade connectors, and plugs that we all eventually need. I also knew technicians for sporting events or Rock and Roll shows that found Radio Shacks all over the country that provided those little electrical components that could save their shows when something broke and had to be repaired in the field. Through the years, however, I've found their stock to be diminishing as competition from the "big box stores" like Walmart, Home Depot, and Lowes started selling the commonly needed crimpers and wires. Let's hope Radio Shack survives this competition, and doesn't drop their electrical supply portion of their business, because I won't know where I'll go to buy that little part to fix a Ferrari!
Previous Restoration Day
Next Restoration Day
Home page