Eurocoachworks
1/31/08
Eurocoachworks
While I was on the lawn at the Breakers, I was introduced to Orlando Cairo of EuroCoachworks in Fort Lauderdale. After explaining what I do, Orlando's face changed to obvious recognition by telling me he knew all about my site, and invited me to come down and see his shop. With the choice of sitting through an awards ceremony, or touring a metal fabrication shop, I made my decision pretty quickly!

Orlando has been fabricating cars from scratch for over 25 years in the U.S. but got his formal training in Argentina as a young man. Italian panel beaters working in Argentina often shared their skills with select locals, and Orlando was lucky enough to be taught the Italian methods of panel beating. Here you see an Aston Martin body being made from scratch.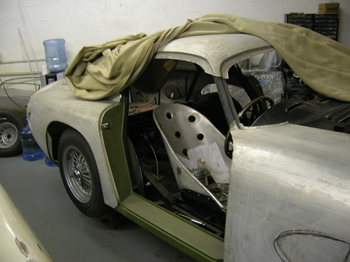 Orlando and I spoke in length about his career in panel beating, working in Colorado, Southern California, and settling in South Florida. He often gets work from the big American auto makers building prototypes and one-off show cars. It seems that even with all the computer aided design and 5 axis CNC machines the auto makers still have trouble building custom prototypes without outside help. Orlando explained that computers are too exact, and when a point in 3D space is marked by a computer, it is very difficult for things to be altered without affecting everything else in the form. With a human panel maker, it's all about fudging the shape of a panel to make it fit or to look right. It was all fascinating stuff to think about, and nice to hear that some of the old techniques are still hard to replace.

The car that Orlando felt was going to cause the most controversy was this Ferrari he was building from a 330 chassis. The owner is having Orlando make him a Vignale bodied 340 replica. The donor car was supposedly very rusty, and perhaps beyond a reasonable restoration, so a new life for an old chassis is about to begin.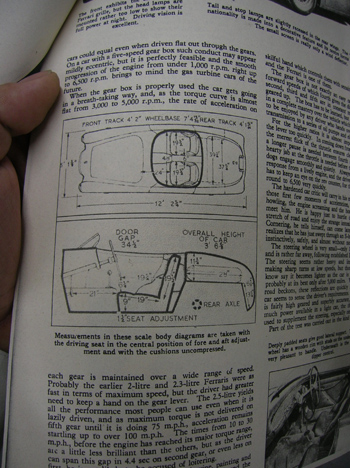 Orlando started with dimensions of the interior from another Vignale car, and transposed them to the 330 chassis. The engine was moved further back, and the chassis modified for the shorter car.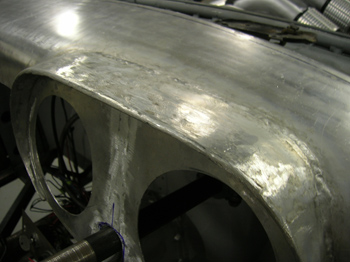 Once the seats were fabricated and set, the dash was formed and placed so the positioning would work for the driver. From here the body will get formed in the same fashion the Italian coach builders did in the 50s and 60s.

EuroCoachworks had an array of power hammers and stretchers to speed up the metal forming, …

…but I was happy to see a the time honored tree stump still being used in this shop!
Orlando explained how the Italian techniques differed from the English method of metal craft. The English method forms metal largely on the English wheel stretching the metal with the force of the wheel with hammering and plannishing for finishing work, while the Italian method largely employs the use of hammers throughout the process. English made panels tend to have a smoother finish top and bottom, while Italian panels may have light hammer marks on the back of their panels, but a high level of smoothness can still be attained topside with lighter hammer blows and some body files. No technique is better than the other, and most shops use a combination of techniques to fabricate, much like EuroCoachworks.
I have and open invitation to visit the shop the next time I'm in South Florida, and I hope to take Orlando up on his offer. It's just too bad I can't spend more time there to learn more about how he does it! Thanks Orlando!
Previous Restoration Day
Next Restoration Day
Home page