Daytona Switch, GTE Seats
3/5/08
Daytona Switch, GTE Seats
A Daytona I worked on last year was back for some minor repairs at François' shop.

The electric antenna stopped working, and after I checked the connections to the motor out back, we determined it was something to do with the switch in the center console. This required removing the two seats, some of the carpet, and unscrewing the two parts of the console.

The antenna switch is in the middle of the console, and has to be taken out from below.

Without taking everything apart to get to the one little switch, I loosened the consoles and dropped the radio down into its hole to reach the antenna switch. This saved me the trouble of removing both consoles, and pulling all the wiring under this panel. I replaced the switch, and we were back in business.

While Gary Hiniker's GTE was at the upholstery shop, there was a surprise under the front seats when the covers were removed. What should have been a fiberglass shell under the foam seat cushions was a galvanized sheet metal fabrication! Gary's seats were re-upholstered by a previous owner in vinyl, but we had no idea what was hiding under the plastic seat covers.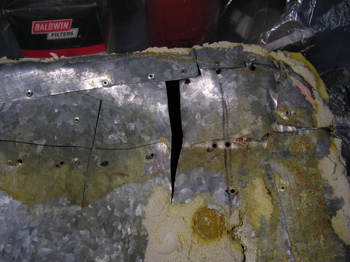 This crudely fabricated piece mimicked the original seat structure, but none of the original seat was there. I can't imagine what could have happened to the original piece since fiberglass is a pretty durable material.

From the looks of the foam that was glued to the galvanized steel, some of the original foam was used so having the original foam survive but not the original fiberglass is even more baffling.

Although this is not a great picture to show the fiberglass buckets found on Early GTE seats, you can make out the fiberglass shell under the foam.
Here's what I wrote about when we first worked on these Series I original seats that belong to Scott Garvey.
Just a reminder, I'm looking for a new Vintage Ferrari Project. If you have, or know of a restoration project, please let me know. It would be great to restore another car on this website! My E-mail.
Previous Restoration Day
Next Restoration Day
Home page