Maserati Tipo 65
5/20/08
Maserati Tipo 65
One of the coolest things about working at François' shop is the variety of exotic vintage machinery that shows up, and what rolled off the truck this morning was no exception. This is a 1965 Maserati Tipo 65 race car driven by Jo Siffert at LeMans in 1965. It retired after two laps due to a damaged radiator, and a rule that would not allow a repair so close to the start. The car performed well for such a short time, and it was unfortunate to have it DNF before showing the rest of the world what she could do.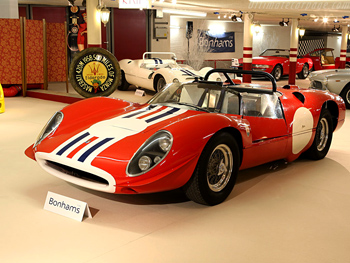 This car was auctioned in 2006 and was purchased by its current owner with the plans to restore it to her LeMans specification. Choosing François to do this work is very fitting considering Sicard was one of the mechanics working for Maserati in 1965 and was part of the crew who built this car and took it to LeMans! Before working for Ferrari, François worked for Mercedes, Matra, and Maserati, each with some great experiences. The time with Maserati was accented with the time working on this car.

This car is powered by a 90 degree four cam V-8 with dual plug ignition. It has Lucas injection, and was still running up until several years ago.

The plan is to get this car cleaned up for display in the next month or two, but after that, we're going to be stripping everything down to get her ready to drive! The modification to the nose section will be replaced with a new nose replicating the shape of the bodywork as she looked in 1965 at LeMans.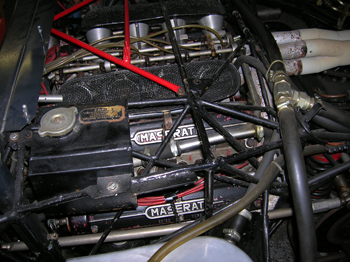 When Maserati constructed "body on frame" race cars, they used small tube construction to make the frame. This "Birdcage" type construction carried over into this car, and can be seen with the body work removed. As François inspected this car, memories of working on this car as a 30 year old mechanic came flooding back. He remembered trying to make this car in the four week deadline that the frame fabricator welded the frame as the mechanics worked on fitting the engine. When it was time to pull the engine after fitting it to the chassis, they found the welder had welded bars that wouldn't allow the engine to come out again! After a couple saw cuts, the engine could come back out, and the fabricator made the appropriate modifications!

After looking at Ferraris all day, it's been refreshing to see another car manufacturer's work, especially the unique work of Maserati. It's a visual feast narrated with great stories from someone who was there when it was all happening. What a treat!

I hope to take plenty of more pictures of this rebuild, and I am excited to even witness the restoration. I may even get to work on it a little bit if I have time between working on the lesser Ferrari road cars!
Just a reminder, I'm looking for a new Vintage Ferrari Project. If you have, or know of a restoration project, please let me know. It would be great to restore another car on this website! My E-mail.
Previous Restoration Day
Next Restoration Day
Home page