The PF Coupe Starts, and More History on 5053!
6/27/08
The PF Coupe Starts, and More History on 5053!
After fixing the fuel pump, and a couple of electrical issues, the PF coupe was ready for her first start up.

There was very little drama as the three liter V-12 fired up on the first crank. I guess François has been doing this for so long that the engine needed very little tweaking to start and idle. As he adjusted the mixture and idle circuits of the three carbs the engine ran better and better. Before long, this car will be out of here!

As I was looking at some of the details that still need to addressed, I noticed two tabs just behind the front wheels. There was nothing left in out spare parts pile for this car that seemed to line up with these holes, so I was wondering if any PF Coupe owners could help out and tell me what goes here. E-mail me!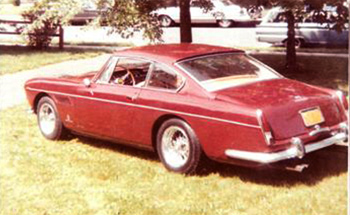 With the August 2008 "Forza" on the newsstands , I've gotten some great mail from the readership, but nothing could top the following piece e-mail:

Hi Tom,

I just read the article in FORZA about the restoration of your 330 America.
I owned sn 5053 from 1969 to 1971. I bought it in Philadelphia in 69 and later moved to Sterling Virginia.
I sold it in 71 to Sanford Brawley from washington DC. I lost track of it until I saw the same ad in Hemmings
that you did. It was a great car to own and I always wished that I would have been able to keep it.
My wife drove it daily during the time we had it. We also drove from Philadelphia to Chicago to visit relatives.
It was a great car to travel in with our two small children. I know that it originally came from New York before I purchased it. I was very pleased to see that it was restored. I have some old pictures of it that I will send to soon.

Sincerely
Phil Farber
San Luis Obispo, CA
I was so excited to get this e-mail as there was big gap in the ownership history of my car, and in one e-mail, I found the names of two owners! I immediately called Phil and had a pleasant conversation about the car. He purchased the car from a Sports Car dealer in Philly, and drove it with hardly any mechanical issues.
I'm trying to locate Sanford Brawley, and I found that in 2003 the AAIA(Automotive Aftermaket Industry Assoc.) awarded a Sanford Brawley with the "Automotive Aftermarket Executive of the Year Award," and I'm trying to find out if this could be my guy. If anyone had any leads on Mr. Brawley, please let me know!

Phil sent me some pictures he took of 5053 back when he owned it. She was still painted in her original dark red paint, and even sported a pin stripe along the side of the car!

I've known my car for about 9 years, and with these pictures, I've discovered she's had another life with someone else when she was a lot younger! Thanks for sharing Phil!
Just a reminder, I'm looking for a new Vintage Ferrari Project. If you have, or know of a restoration project, please let me know. It would be great to restore another car on this website! My E-mail.
Previous Restoration Day
Next Restoration Day
Home page