House Call on a 330 America
7/12/08
House Call on a 330 America
I made a house call on an old friend for Michael Greenspan. It's always nice to work on the sister car to my 330 America, especially since I know these cars pretty intimately. There was a list of little things that took the better part of a day to resolve, and it was easier for me to go to Michael's house to fix than to bring her into one of the shops I work at. We replaced the trunk seal, adjusted his horns so both would sound when pressed. cleaned the horn contact under the dash, and tried to fix a broken radio antenna.

One problem that Michael just couldn't figure out was why he couldn't get fresh air out of the center vent on his 330. These vents get air directly from fresh air scoops behind the front grille, and is usually pretty strong. The other vents seemed fine, so I felt there was probably a mouse nest inside one of the vent tubes. Sure enough, after fishing a coat hanger though the center vent, we began pulling cotton wadding that made a mouse's first choice for bedding.

With a combination of using a coat hanger and a strong shop vac, we managed to pull quite a lot of wadding out of 4969's vents. A test drive proved there was much better ventilation through this vent than before, and we checked off another item off Michael's "To Do" list.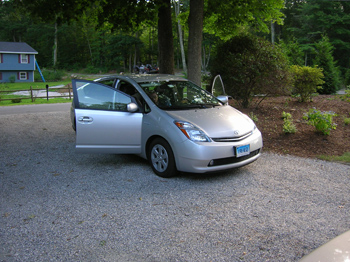 With the 330 America task list finished, Michael asked me to take a look at his Prius. Rising to the challenge of working on a brand new car, I decided to give it a shot. Michael wanted to install a piece of third party circuitry that would unlock some of the features of his center touch screen. The problem was much of the dash needed to be partially disassembled in order to reach the back of the video display.

The instructions seemed simple enough, but was a little daunting as more and more of the dash came apart. I wasn't worried so much about the electronics or getting everything back together, but I was more worried about breaking one of the little plastic mounts that held the dash together. Luckily nothing broke, everything went back together, and now Michael can use the touch screen to dial his phone when the car is "in gear." I guess I can add the Prius to the car's I've worked on.
Just a reminder, I'm looking for a new Vintage Ferrari Project. If you have, or know of a restoration project, please let me know. It would be great to restore another car on this website! My E-mail.
Previous Restoration Day
Next Restoration Day
Home page