Finishing up the PF Coupe, and Cal Spyder Gas Tank
7/15/08
Finishing up the PF Coupe and Cal Spyder Gastank
I finished up PF Coupe SN 997 today. By next week it should be on its way to auction at RM in Monterey. This car came into our shop last Fall, and we've made steady progress getting the engine rebuilt, rebuilding the brake system, and getting the car back on the road.

This was not a concours restoration, but a very nice mechanical rebuild. As with any of François' engine rebuilds, the engine looked great. It'll be interesting to see this car cross the block at RM in Monterey as lot 487 in August. I hope she goes to a good owner.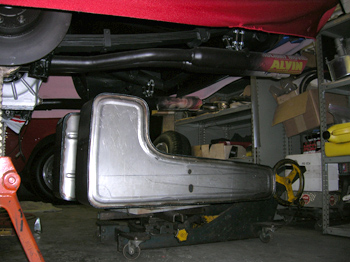 With the PF coupe pretty much done, I turned my attention to the Cal Spyder in the shop. I intentionally had the gas tank fabricator leave the mounts off the new tank. We wanted to get the tank in place to check for the fit between the frame rails before committing to welding the new mounts to the tank.

I turned some new polyurethane bushings on the lathe for this gas tank which are much more durable than the original rubber ones, and bolted them to the mounts that were removed from the old tank. Looking up at the bottom of the tank, you can see how the mounts need to be attached to the rear of the tank. The front mounts will be welded to the vertical surface of the tank. Once everything is lined up, we'll tack weld the mounts in place, remove the tank for permanent welds, seal it, and paint it for final assembly.

While I was at the upholsterer's shop last week, I removed Gary Hiniker's steering wheel for refinishing. The engraving on the Nardi wheel is in pretty good shape, but the varnish was worn away. I restored my steering wheel years ago with great results, and since Gary's wheel is in better shape than mine, it should turn out just as nicely. After buffing out the aluminum spokes, I'll strip the old varnish and prepare the wood for refinishing. It'll look much better with the new interior going into the car.
Just a reminder, I'm looking for a new Vintage Ferrari Project. If you have, or know of a restoration project, please let me know. It would be great to restore another car on this website! My E-mail.
Previous Restoration Day
Next Restoration Day
Home page