The Lime Rock Car Show
8/31/08
Lime Rock Fall Car Show
I've been doing a lot of car events in the month of August, and I almost didn't go the the Lime Rock over the Labor Day Weekend. It's only a hour's drive south of me, and I decided the last minute to head out with the Ferrari. I entered the 330 America for "display only" simply to park on the front straight of the track, otherwise I would have had to park out in the car park far away from the activity.
The car was a little dusty from driving on the dirt road by my house, so I wiped it down enough so she would be presentable in the class of "Post War Closed European Sports Production Cars," and left to look at the other cars. I walked back to my car an hour later, and noticed the judges walking near my car. One judge came up to me and asked if this was my car. He wanted to give me a piece of advice, "You have a very nice car, and if you spent a few minutes cleaning the tires, it would look so much better." I didn't know if I should be offended, or happy with the advice. I explained I wasn't getting the car judged, and living on a dirt road, blah, blah blah…The judge said, "Clean the tires, get the car judged!" I quickly went over the judging table to change my application for a judging sheet and handed it over the officials.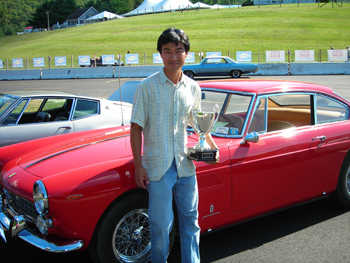 Later in the day, while I was busy chatting with some people about my car, I was informed that my name was announced at the Podium! I felt like such a bone head by not being there to accept my First Place in Class! Who knew!
Just a reminder, I'm looking for a new Vintage Ferrari Project. If you have, or know of a restoration project, please let me know. It would be great to restore another car on this website! My E-mail.
Previous Restoration Day
Next Restoration Day
Home page