Arrived in the U.K., and a visit to GTO Engineering
9/18/08
Arrived in the UK, and a visit to GTO Engineering
I landed in Heathrow on Wednesday night after an pretty uneventful flight. The Boeing 777 was half full, and we had a tail wind all the way across to make it in 5-1/2 hours. My College Schoolmate picked me up at the enormous newly completed Terminal 5, and we headed into west London. As Russ, Sue and family headed off to school and work the next day, I only had one task to complete, and that was to get my rental car, or should I say "hire car." I called Andrew and Kelly, Ferrari friend's from Perth now living west of London, to see what their plans were the day before heading out to Goodwood. Andrew had just picked up Carl, another mate from Perth, from the airport and were making plans to visit a Ferrari shop in Berkshire. My schedule was immediately changed to join them in Datchet for the drive out.
I hit the streets of London looking for a cash machine and a tube station for Swiss Cottage so I could pick up my car. When I arrived, I asked to include a GPS navigation unit to my rental. "We don't have any more" was the response from the Russian counter person. "O.K., can you you call another 'National' car rental place to reserve one so I can go and pick it up?" I replied. "They don't have any either. You should have reserved one."
I explained no where on their website was this allowed, and it clearly said to obtain extra features for the car like car seats and GPS systems once I arrived…I got no sympathy, nor a response, So I resigned myself to getting a map. "We don't have any maps." "What?!?" I exclaimed? I've never been to a Nationally recognized car rental agency that could not at least offer a simple map to get me around. As I was still reeling from the prospects of driving though London morning traffic sitting on the right side of the car managing a manual transmission, the agent handed me the keys and said "have a nice day!"
Deciding I was not going to turn into an ugly American in London, especially to a non plused Russian, I asked him to kindly show me the way to the A4/M4 so I could at least get within the vicinity of Andrew's house. After writing down the 7th turn, I realized I was just going to have to wing it and hope I didn't drive into the London congestion zone and fined.
After about an hour, I miraculously made it past Heathrow airport towards Dachet, and parked at the train station. Since my cell phone does not work overseas, I found a pay phone and called Andrew to take me the rest of the way to his house. I managed to get from London to within 500 yards of Andrew's house without a map, which to me was an achievement!
After parking my car at Andrew's, we headed out to The Oracle, a huge local shopping mall, to run some errands. I long decided that I was not going to survive the weekend without a GPS system, so I took the opportunity to buy a cheap £100 unit. Russ and Sue, my London hosts, would get a nice parting gift with the provision that I get to use it when I return the the U.K.!
We met Francis Newman, the Thames Valley Ferrari Owners Club Regional Coordinator on the way out to Berkshire so he could make the introductions for us at GTO Engineering. We also needed him to find the facility hidden behind the hedgerows of Scarletts farm.

In four brick buildings behind a private house next to a farm housed GTO Engineering. The courtyard displayed a "modern" Ferrari, but behind it there were much older Ferraris.

A 275GTB, a Lusso, and a 330GTS parked outside was quite a collection of cars for a normal shop.

Looking closer, one could se another 275GTB peeking its tail out of another workshop. I was told hiding along with it was another Lusso belonging to a particularly famous British Rock Star.

Once we entered the main storage garage, it became evident we found the mother lode. In total, I counted 6 275GTBs on the premises. If one was new to Vintage Ferraris, they would think that it was a common car from what was parked at GTO.

Dave Corner, pictured on the right framed between Francis and Andrew, was gracious enough to show us what was kicking around the shop.

Even the V-8s in the shop were not from simple 308s. The headers and injection system tells me this was not a normal V-8 Ferrari engine.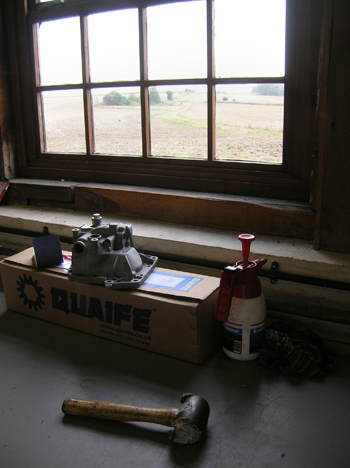 It was quite amazing this shop was about a couple hours outside of London, hidden in the English Countryside.

As Dave and I discussed the usual Ferrari topics about parts suppliers, repair techniques, and the Classique Department at Ferrari, he took us into their engine assembly room. He explained that normally, this room is a lot busier, but I was still very impressed.

Having a couple engine stands and work benches set up for rebuilds shows that they're prepared to take on a busy vintage race season.

Our discussion led us to where GTO gets their parts, and Dave began showing us what they've made from scratch for some of their customers. I was blown away by what kind of stock they had available on their shelves.

Mixed in with the parts were engine blocks, gear boxes, oil pans, and timing cases. If there was a need for a particular part that they did not have from a parted out car, they cast new pieces. Seeing newly cast Drum brakes made me wonder why people are still parting cars out for their drum brakes when these are available!

Still overwhelmed with what I was seeing, I was shown what was stored in their drawers for spares. As I touched and photographed these parts, I told Dave that when I posted these pictures to my website, it should be titled "Ferrari Parts Porn!"
I want to thank Dave Corner for taking the time to show us the shop at GTO Engineering, and Francis for making the introductions. It was an unexpected bonus to see such a fantastic shop. Thanks guys!
Just a reminder, I'm looking for a new Vintage Ferrari Project. If you have, or know of a restoration project, please let me know. It would be great to restore another car on this website! My E-mail.
Previous Restoration Day
Next Restoration Day
Home page