Goodwood Revival I
9/19/08
Goodwood Revival I
I arrived at the Goodwood Revival after a 2 hour drive from London, and I was immediately met with a bunch of cool cars in the pre '1966 car park. For those not familiar with the Goodwood Revival, it is an event that celebrates the period of time from 1948-1966 when this race circuit was a modern race track. The grounds of Goodwood is owned by the March family, and in 1998 Lord March made a life long dream come true by reopening the track celebrating the history of the track and his Grandfather's legacy.

There's a Pre 1966 car park that grows larger every year, and it was such a treat to see so many cars that I rarely see on the streets in America.

I was also shocked at how many Sunbeams parked outside. There were actually more Tigers than Alpines, and they easily topped a dozen cars from Rootes Group.

Inside was only getting better. Friday is a day set aside for practice and qualifying, so it was a little less crowded for the spectators.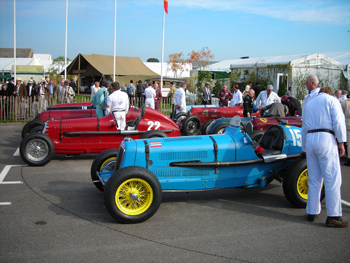 All the mechanics were dressed in a prerequisite white coverall, and it really gave you the feeling of going back in time.

There were static and active air displays throughout all three days of the event.

Walking around the planes really made me appreciate the shapes, like the nose of this DC-6.

British W.W.II aircraft were the most revered, and understandably so when you heard their Merlin engines at full song, buzzing the airfield. An American Mustang and Corsair were also part of the show, so credit was given to the Yank planes as well.

I'm slowly learning about Vintage aircraft, so my knowledge is limited, but I know what I like. I could stare for hours at the engineering involved with building these radial engines!

This 1943 Boeing B75 Stearman was simply beautiful.

The old planes were fantastic to see, but even more significant when you consider over 60 years ago, these planes took off from this very spot to defend Britain from the Nazis.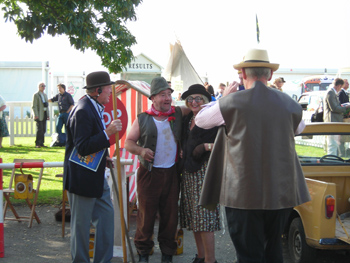 The Goodwood organizers went through great lengths to recreate a special moment in time by hiring actors and performers to play bit parts from the post war era. These gentlemen were part of road working crew that drove around "fixing" trouble spots. They were available for photographs as well.

There was a special indoor exhibition area for and Earls Court Motor Display. This year's exhibit was for the "Fastest Car in the World" throughout the history of Automobiles.

As more and more people arrived at the event, I found 70% came dressed in 40-60s period outfits. It was nice to see the spectators making the effort along with the organizers of the event to bring us back to another time. Some dressed their kids in old style school boy outfits, and some pushed vintage baby strollers. The women looked fabulous with their veiled hats and white gloves, and although I didn't dare wear them, I saw a couple guys wearing plus fours!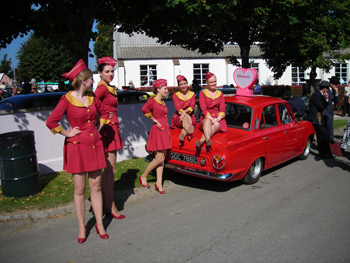 Everyone looked that much nicer and neater dressed up, and if that was not enough, there was always something neat to look at!

On Friday at 1pm, I went to the tomyang.net designated meeting place to see who from the website was at Goodwood. From left to right, was Howard Wilcox, Shaun Davis, Tom Yang, Andrew Stevens, Carl Jones, Kelly LaVelle, Dave Corner, and Sean Bramhall.

Howard was nice enough to give me his Bonhams Auction catalog so I could get inside for a peek at what was up for auction, and I found this Series II 330.

I've been looking for another project, but this one might be a little beyond my abilities.

If you ever think restoring an old Ferrari is expensive and complicated, take a look at aircraft restoration. This project might even scare away most all aircraft collectors!

There was a smattering of Ferraris in the tent, but certainly not as big and over the top like the American auctions….which was kind of nice.
After a long day of travel and walking the grounds of Goodwood in spectacular weather, I went into Chichester for Dinner with Andrew, Kelly, and Carl. Town was packed, but we managed to find a good French Bistro that had a table. At dinner's end, I still needed to drive 40 minutes to Hove which was the closest I could find a Hotel, so I bid everyone goodnight at 10:30 and headed out. The GPS earned every penny I spent on it by guiding me to the door of my hotel without once having to pull over and read a map. It's one tool in modern living that I highly recommend.
Just a reminder, I'm looking for a new Vintage Ferrari Project. If you have, or know of a restoration project, please let me know. It would be great to restore another car on this website! My E-mail.
Previous Restoration Day
Next Restoration Day
Home page