Goodwood Revival II
9/20/08
Goodwood Revival II
I woke up very early in Hove, which is a town just down the road from Brighton. It's a touristy seaside area with a surprisingly gravely beach. I believe this is a popular destination for London beach goers.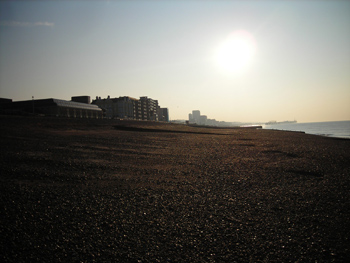 Looking west into the rising sun, I could just make out the piers with an amusement park.

To an American, I'm always chuckling to myself when I read names or places in the U.K. They seem to never notice how synonyms of their terms have different meanings. Let's not even get into the naming of towns…O.K., just one. I was driving to Brighton when I noticed signs to a town called "Cocking!"

The Pre 1966 car park had an infusion of new cars for Saturday at Goodwood. I started playing a game to see how many Sunbeams I could find!

I have a confession to make. I'm really liking the Alfa Duettos. Now if I can just find the right project car…

Another 275 GTB, with perfect light on silver paint. Check out the body color roll cage!

Inside Goodwood was more racing. Kelly and Andrew got me into the "March Enclosure," which is for club members only, a much more civilized way to view the races than the commoners!

Marylin sent her regards. (Please note, outfit number two that I lugged over from the States!)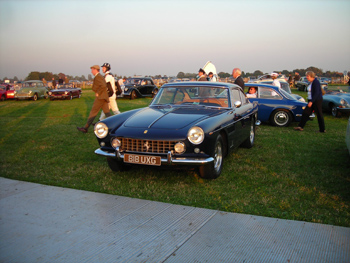 At the end of the day, I found this Series I GTE parked in the pre66 carpark. It was very nice car with the owner nowhere in sight.

It was the only GTE I saw all weekend, so I slipped my card in through his window. Luckily, he came back with his son the next day, so I flagged him down as he pulled in. He's a new owner, and heard of this website. Hopefully, we'll hear from him soon!
Just a reminder, I'm looking for a new Vintage Ferrari Project. If you have, or know of a restoration project, please let me know. It would be great to restore another car on this website! My E-mail.
Previous Restoration Day
Next Restoration Day
Home page