Goodwood Revival III
9/22/08
Goodwood III
My Aussie friends lent me their paddock pass so I could get a closer look at the vintage machinery. It was pretty impressive to have so many prewar Alfas all parked in a row.

Not so many Bugattis in the paddock, but always a nice sight to see.

Short Wheel Base 250s had a strong showing.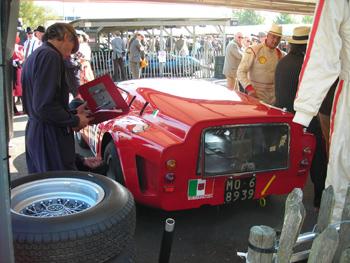 Love it or hate the look of this one of a kind GTO, it was very cool to see the "Breadvan" up close.

GTOs are rare cars, aren't they?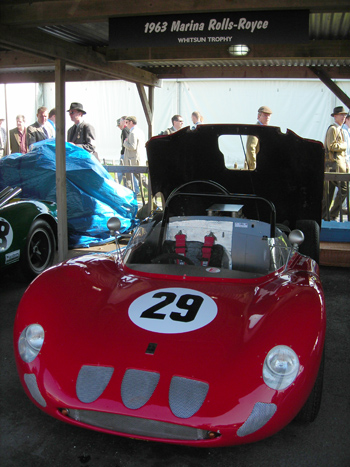 Something I've never seen before was this Marina Rolls Royce. My research found that this was a one off prototype that was raced once in 1963 at Goodwood.

It was rumored that Rolls Royce was not too happy that one of their V-8s was being used in anger on a race track and the car was quietly put away. It was great to see this car back on the track where she made her debut over 40 years ago.

I kept finding myself drawn to the pre '66 car park, and every time I went back out, I found another gem. These people dressed in W.W.II uniforms felt the same way.

I would assume that when we saw a Cal Spyder parked in the pre '66 car park, it was probably a recreation. It's a shame that these cars are starting to be like Shelby Cobras, even if you own a real one, the public is going to assume it's a fake!

This red Cal Spyder was definitely a recreation and was for sale. They wanted £450K for it, which translates to about $830K…for a fake! Wow.

I saw this Shelby GT350H. I don't know if it was a real one, but there were some details that made me think it was probably a "tribute" car. The first clue was the 18 inch wheels.

I was especially interested in what the owner did with the exhaust system. I did the same thing with my exhaust on my Fastback, by getting rid of the wimpy stock exhaust trumpets for larger exhaust tips. The problem I'm having is my 2-1/2 inch tips occasionally rattle on the trim rings. When I took a peek under this car, I realized these larger exhaust tips were simply touching most of the trim ring. It would have been nice to meet the owner to see if this actually works, or rattles worse!

There were a ton on Mustangs, especially the early ones. The Brits seem to love Mustangs.

I found a TVR Tuscan in the regular parking lot since it was too new for the pre-66 lot. I never get to see many of these cars in the States. TVR make some beautiful shaped cars, but something was a little skewed about the exhaust.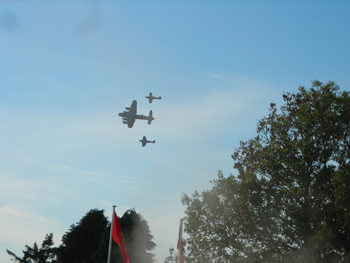 Throughout the weekend there were air demonstrations with Vintage Aircraft. A Spitfire, Hurricane, P-51 Mustang, and Corsair were just a few of the planes that took to the skies over Goodwood. The coolest thing was a Lancaster Bomber, the only one currently flying in the world! It was so impressive to hear four Merlin V-12s on the bomber lumbering across the sky.

I might be in my forties, but I was getting choked up watching these planes flying in formation across the airfield. 80% of these planes were shot down defending England from the Nazis, so seeing these planes flying across the English Channel for home must have been very emotional knowing the boys made it home alive.

Between watching the planes, the Morgan guys gathered in the car park.

At lunchtime I was invited to meet some Vintage V-12 Ferrari guys. I was told to meet them at a red 275GTS.

Considering how rare these cars are, I figured there would be no problem, but at Goodwood, that's not necessarily the case. I managed to find another red 275GTS not too far from the first one!

Luckily, Andrew (left) cleared up all the confusion by breaking out the chairs and champagne. Ant (pictured right) owns a Daytona that recently completed a trip to Europe taped by the English show "Top Gear." Richard Hammond shot the piece, and we're all looking forward to what they did with the car, including the owner!

Back inside, the fun continued. Laurel and Hardy were making their rounds in the paddock area.

The Bobbies were out arresting any suspicious characters, but this lady claimed she was completely innocent.

Here's my third and final outfit of the Goodwood weekend. It was a lot of fun dressing up and being part of the spectacle of Goodwood!

During some of the awards ceremony, they taxied a Spitfire down the front straight to honor the W.W.II veterans. The pilot revved up the Merlin V-12 and held the plane back with the brakes.
After three days at Goodwood, I was exhausted. It exceeded all my expectations and was such a nice change over the normal car shows in the U.S. I saw some very rare cars, some fantastic period clothing, and some great racing. The air show was something to remember. I may not be able to go every year, but I guarantee I'll be back. Thanks to everyone who came out to meet me and making my visit so much more fun!
Just a reminder, I'm looking for a new Vintage Ferrari Project. If you have, or know of a restoration project, please let me know. It would be great to restore another car on this website! My E-mail.
Previous Restoration Day
Next Restoration Day
Home page