Tomyang.net Fall Party
10/4/08
The Tomyang.net Fall Gathering
I've been preparing for weeks to put together the 4th annual tomyang.net party, and the day finally arrived. The weather in the northeast is always unpredictable, but we managed to get a perfect day for the party.

Nine Vintage Ferraris drove in from all points of the compass. Warren came from the Pittsburgh area in his 330GT 2+2. Mark came up from Maryland in his 365GT 2+2. Sam came from the East via Rhode Island in his 365GTC/4 and Steve came in his 330GT 2+2 from Ontario. Four types of 12 cylinder Ferraris were in attendance from a Flat 12 in a 512BBi to my Columbo V-12. We even had a 6 carb V-12 in a Long nose 275GTB to drool over.
I'll need to check the furthest distance traveled by a Vintage Ferrari but it was either Warren and Judy from Pittsburgh, or Steve and Tom from Ontario. The furthest distance traveled by an individual was won hands down by Sean from the U.K. Sean left his wife in NYC for a shopping spree while he hitched a ride up from the City with Yale in his 330GT 2+2.

It was nice to line up 5 consecutive models of 2+2s in the Ferrari stable from 1963-1972. Pretty cool.
We had a nice lunch in a 20X30 foot tent and the usual interesting conversations about old cars and Ferraris. It was nice to see the usual hard-core attendees mixed in with several new faces joining the friends on Tomyang.net.
Unfortunately, Yale's 330 GT 2+2 developed a problem with its starter. It seems the bendix was not engaging the ring gear for some reason. It was a good thing he was surrounded by mechanics, knowledgeable enthusiasts, and some sympathetic Vintage Ferrari owners (despite the joking) to diagnose his problem. Unfortunately the only solution was to pull the starter, and not an option for us to fix that day. We pushed started his car, and he drove home with Sean as his co-pilot back into the city to fix the problem another day. Luckily, Yale and Sean got back into Manhattan safely.
The party continued into the evening with the guys who were staying over, but we eventually had to rest up for the events of the following day.

At 8:30 am our Vintage Ferraris were joined by Peter's Mercedes 230, and John's Alfa GTV V6 for the drive down to the Classic Car Gallery and onto the Festa Di Ferrari in Stamford. I got a call just as we were leaving that it was raining hard in the direction we were headed. A little rain was not going to stop our caravan, so we applied another coat of Rain-X and headed out. The cars were all running great.
As we got close to Southport and mysterious tapping noise came out of my engine. I immediately pulled over to take a look. The sound was emanating from under one of the cam covers. It sounded like one of the lock nuts that secured a tappet in the valve train had come loose and the large clearance was tapping away at the the top of the affected valve. It wasn't a horrible noise, but something that shouldn't be ignored. I decided to push on to the Classic Car Gallery a few more minutes down the road and make another decision.
When I arrived, the sound did not get any worse, and I was still firing on all 12 cylinders. I called Richard Garre of Radcliffe Motors, an attendee to my party that was heading home and talked about my options. We decided it was a calculated risk to push on, but not something to drive very hard. I decided to take my chances and drive with the 12 car convoy into Festa Di Ferrari in Stamford another 15 miles away.

By the time I arrived in Stamford, the car was now firing on 11 cylinders, but I made it with the Tomyang.net crew. It was great to pull up with everyone and show people we drove in regardless of the damp weather.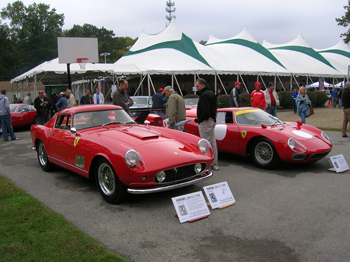 The cars on display were very nice like this 250 Tour Du France and 250 LM. What a difference in design and technology in two race cars with the same displacement V-12.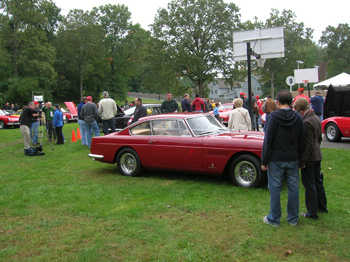 Ron got his GTE fired up and joined us a little late, but it was great to have two Series III GTEs and my 330 America on the same lawn. As these cars get older, and more and more new Ferraris take over the show fields, getting several Vintage Ferraris to drive into an event is a rarity.

Paul and Darry Bova, the Festa Di Ferrari organizers invited this local GTE owner to show his car, and none of my group were familiar with his car. When we finally were introduced to Philip, he was a little overwhelmed as several knowledgeable Vintage Ferrari owners descended on his car to inspect his restoration. It was a pleasure to meet him and I hope we didn't scare him away from all the tomyang.netters!
As if I didn't have enough on my plate of events for the weekend, I had to leave the show early to attend a wedding in New York City! The plan was to leave the car with Paul Bova and he would store the car at his house until I could come back to retrieve it. I had a discussion with François who was at the show and decided to risk the short drive Paul would have to make in my car to get it to his garage. I handed over the keys to my car, changed into a suit, and headed into Manhattan with Tom Wilson who was headed to the airport for Los Angeles. My weekend did not end until I got back to my house at 1:30 am Sun night, but it was all worth it.
I want to thank everyone who participated in this weekend's activities. As always, it's great to see old and new faces at these gatherings, and I look forward to the next one!
Just a reminder, I'm looking for a new Vintage Ferrari Project. If you have, or know of a restoration project, please let me know. It would be great to restore another car on this website! My E-mail.
Previous Restoration Day
Next Restoration Day
Home page