A New PF Coupe in the Shop
10/7/08
A New PF Coupe at the Shop: SN1747
A PF Coupe was delivered to Francois' shop over the weekend, and I was excited to see it. SN1747 came from Oregon after 33 years of loving care by the previous owner. David, the current owner contacted me while I was in Monterey looking for a PF Coupe to rally and almost bought SN997, the car we worked on over the last year. Having missed bidding on SN997, David asked if I could find him another car, and I remembered this one in Oregon. I introduced the two gentlemen and worked out an agreeable price. Ed, the previous owner, was ready to sell but having someone who promised to take good care of his old friend made the process a little easier.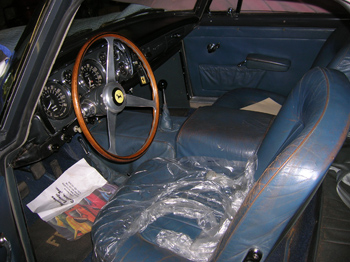 SN1747 is largely an original unrestored Series II PF coupe, and was on the radar of some other Ferrari buyers. Ed resisited selling his car, fearing this old girl would fall into unsympathetic hands and an unknown future. With David's purchase, we can work together at getting this car back to her former glory under new stewardship approved by the former owner.

The task at hand is to get this car in good mechanical condition. David wants to enter this car in Vintage Rally events, so we had our work cut out for us. The carburetors were removed for rebuilding, and the cam covers were pulled to inspect the valve train.

The parts we were pulling off were piling up, but soon they will be cleaned and readied to go back on the car.

The valve train showed normal wear, but nothing was drastically amiss. An oil leak that was described by the previous owner that also showed up in the PPI would have to addressed. Hopefully, it will be an easy fix.

I pulled all the brakes calipers and began the disassembly of the pistons.

Some clues to someone previously working on the brakes were evident. The parking brake mechanism is held with special bolts and one of them was had a smaller head than a normal one. I bet the original head was stripped, but instead of sourcing a new bolt, the old bolt was filed down to the next smaller size.

Most of the pistons popped out with some compressed air, but a couple of them put up quite a fight. They were all pretty gummed up with some pretty dark fluid. The bores still had the original cast iron finish, so they all showed signs of rust.

By the end of the day, Alvin, Francois's helper cleaned all the piston bodies. The plan is to send these out for resleeving and plating.
Just a reminder, I'm looking for a new Vintage Ferrari Project. If you have, or know of a restoration project, please let me know. It would be great to restore another car on this website! My E-mail.
Previous Restoration Day
Next Restoration Day
Home page