Ferrari GTE 3553 Detailing
11/21/08
Ferrari GTE 3553 Detailing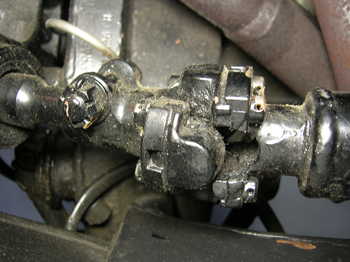 This week I began all the little projects that make up the detailing of GTE 3553 for Cavallino in January. This is the steering shaft u-joint, and it is supposed to be natural steel with the steering shaft painted black. I took the safety wire off the allen nuts and started stripping the paint with some paint stripper.

Many parts from the carburetors were removed for plating, along with some of the acorn nuts securing the intake manifolds. I've been told that they are supposed to be clear cadmium, but nickel is a close facsimile. The throttle shaft was removed and disassembled for bluing, and black oxide plating. We'll have to do something about the "Ferrari" logo on the cam covers. The previous owner removed the paint from the lettering, but it is supposed to be painted black wrinkle with the rest of the covers. We're going to try to paint the letters without re-doing the whole valve cover again.

I replaced the bunged up choke cable with a fresh new wire. Years ago when I re-did mine, I bought a spool of piano wire in the correct diameter, and I have enough to do many more cars. Now I'll be able to bend the correct diamond shaped end when it's installed.

We're collecting plenty of parts for the platers.

The interior looks great on this car, but I finally noticed what was wrong with the interior. The painted trim pieces that cap the door and rear panels are the wrong color! These are painted body color for a GTE, and someone had painted these black on this silver car. They were rushed down to the painters to get them back in time.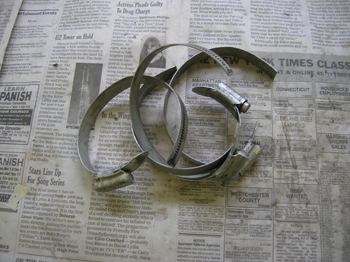 Cheney clamps are also needed for this GTE. These original clamps are a little long, and had to be cut down to length.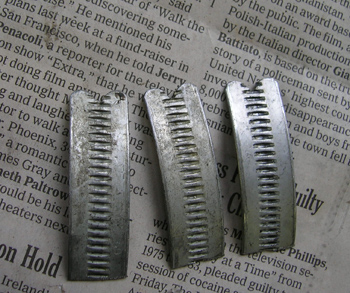 The original ends show the profile I had to copy to make the cut ends look original again.

I mounted a set on the PF Coupe we're working on, and you can see in this picture how they're supposed to look.

The resistors were mismatched, and kind of cruddy, so I replaced them with a set we previously painted and stamped with the kit Parker Hall sells from Kilimanjaro Designs.

With the resistors painted with Parker's paint, it's quite obvious it's not the same color as the Coils, but were they supposed to match? Which one was the right shade of red?
Just a reminder, I'm looking for a new Vintage Ferrari Project. If you have, or know of a restoration project, please let me know. It would be great to restore another car on this website! My E-mail.
Previous Restoration Day
Next Restoration Day
Home page