2008 Tomyang.net Pledge Drive
12/5/08
2008 December Pledge Drive
Another year has passed and it's time for my annual pledge drive. Tomyang.net continues to grow, and much of its success is from the support of the fans of this site. Here's a recap of what Tomyang.net brought you in 2008.
In January, I rode shotgun with Mark Dempsey in his 365GT 2+2 from Maryland to Cavallino in Florida. The car didn't miss a beat the whole trip despite a trailer hitch that tried to remove his exhaust! It was a great trip, and Mark added another award to his mantle for his Ferrari!

Back at François' shop we continued work on PF Coupe 997. It was headed to auction in Monterey in August, so we had a deadline to get everything mechanically sound.

The California Spyder was also seeing progress as we worked on getting her ready for the upholstery shop.

As if a PF coupe or Cal Spyder is not rare enough, I also had a chance to work on a 166 Barchetta. These early Ferraris were built by the coach builder Touring and I got a chance to marvel at their craftsmanship.

We even got a chance to work on some more "pedestrian" Ferraris like a Boxer!

Richard Garre of Radcliffe Motorcar Company in Maryland worked together to throw the first Tomyang.net/Radcliffe Motorcar Spring Party. We were overwhelmed by the turnout with over 30 Ferraris, and more than 2/3 of them being vintage cars. It was said we had more Vintage Ferraris at our event than what often shows up at a Ferrari Club event! We'll be building on this success with another Spring event in 2009!

A fellow 330 owner, Art Suckewer brought his car in to find a mysterious clicking noise which turned out to be a bad valve seat. It was decided to fix everything with an engine rebuild.

My 330 America reached new celebrity status with a feature article in Forza Magazine! Along with a nice article about my restoration journey with my car, I also managed to find two more previous owners that read the same article. They both talked about 5053 as if they owned her yesterday, and both still kept old pictures of the car!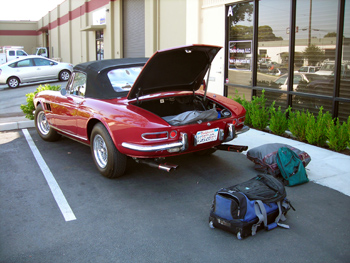 In August I met Tom Knudsen In San Carlos to drive into Monterey in his 330GTS. I couldn't think of a better way to kick off the Monterey weekend behind the wheel of the convertible Ferrari. A fun time was had by all.

Soon after returning from Monterey, I was off to the U.K. to attend the Goodwood Revival, but not before getting a chance to visit the shops of GTO Engineering outside of London. I was probably more interested in their treasure trove of spare parts than their cars, both of which were impressive!

The Goodwood Revival was beyond anything I had expected. The cars, the planes, the racing, all fantastic.

Upon returning to the States, I threw my annual Tomyang.net Fall Party at my house. It was a nice turn out of Vintage Ferraris, with old and new friends coming to share the beautiful fall weather.

Back at François' shop, we had a new and old visitor. A new PF coupe came in for mechanical freshening while my 330 America had something much more serious.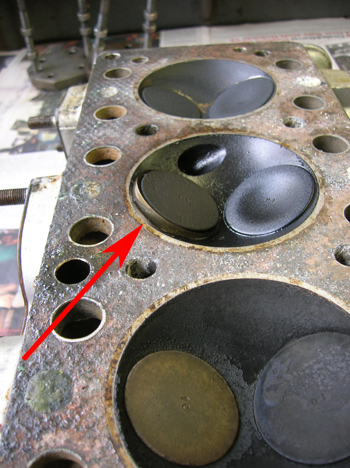 During the weekend of my party, I heard a strange clicking noise from my engine. I nursed the car to safety, and brought her into François' shop for a closer inspection. My fears were realized when the heads came off and I found a valve seat loose inside the head. Luckily we pulled the head before the seat did any more damage, but a full rebuild of the heads are in order. I'll be showing the details of this rebuild in the upcoming months.

For the end of 2008, I've been working furiously on 3553 so we can take her to Cavallino to be judged in the show. It's coming together quite nicely, but I won't relax until it's over!
2008 was full of Vintage Ferrari activities, and I've been trying my best to share them with you. I am also glad I had a chance to meet more of you at one of the Ferrari events I scheduled or at one I attended. The plan is to schedule another Spring Party at Radcliffe Motorcars in May, and build on the inaugural event last year. I hope to have even more Vintage Ferraris come out to play.
2009 will celebrate a 10th year anniversary of Tomyang.net! In 1999, I began chronicling my 330 America Restoration before blogs were known as blogs! Ten years on, I'm probably one of the longest running journals on the Internet, much of it I owe to the enthusiasm and support from fans around the world. I'm proud of the community we've created, and I look forward to see what the future brings to us in the world of Vintage Ferraris.
Your monetary support helps keep this free website going for all of us to use as reference and entertainment. If you're an Vintage Ferrari owner, and have found this website useful in the ownership of your car, now is the time to show your appreciation in supporting some of the costs that it takes to bring all this to you. If you're a fan or future Ferrari owner, think about how much entertainment value you get from this website, and compare that to how much a magazine subscription that only brings you content once a month.
Paypal users can simply click the paypal button below.

If you're having trouble with the paypal link, my paypal account is
tom@tomyang.net
Checks can be made payable to "Tomyang.net LLC" and sent to this address:
Tomyang.net LLC
P.O. Box 36
Hollowville, NY 12530
Thanks for participating in this pledge drive, and I wish you all a wonderful Holiday Season.
Tom Yang
Just a reminder, I'm looking for a new Vintage Ferrari Project. If you have, or know of a restoration project, please let me know. It would be great to restore another car on this website! My E-mail.
Previous Restoration Day
Next Restoration Day
Home page