A New Cavallino and more prep on 3553
12/9/08
A New Cavallino and more prep on 3553
Black Bart, the emblem supplier, sent a new Cavallino emblem in the mail. The one on the left was on the car, and incorrect for the age of 3553. GTEs came with a flat horse (pictured on the right) mounted on the grille.

Before getting the horse in place I had to first clean the grille and polish the chrome on the front of the car. I also had to fabricate a bracket to mount this horse because the mounting studs were different. Unfortunately, the grille was anodized during it's last restoration, so no amount of polishing was going to take the milky finish away. Ferrari grilles from this era were left natural aluminum, and can be polished if the aluminum is not too far corroded, but once it is anodized, the hardened surface makes it impossible to polish. The best I could do with the aluminum pieces was to clean them thoroughly.

A few weeks ago I discovered the inner door trim pieces were painted the incorrect color. We sent them out to our painter to match them to the body color of 3553.

The painters did quick work, and they matched perfectly.

I carefully reinstalled the pieces, but not before installing new window felts in the from door pieces. This interior is looking very nice!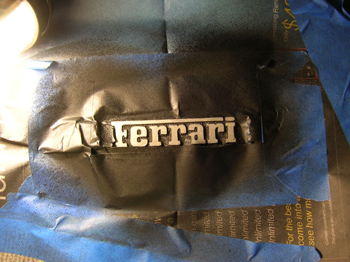 A pet peeve of mine with Vintage Ferraris is when people strip the wrinkle paint off the Ferrari logo on the valve covers. Vintage Ferraris left the factory with the complete valve cover painted in wrinkle black, and that's how I like to see them. Instead of removing the valve cover to paint again, and risk damaging the gaskets, I decided to try and paint just the lettering.

A combination of wrinkle paint, and flat black paint got the sheen just right. Now, I'm at peace!
This picture reminds me that a missing oil filler bracket still needs to fabricated, and the exhaust shields need to be mounted as soon as the bolts come back from black oxide coating. The detailing continues.
I just want to thank everyone who donated to the 2008 Pledge Drive. Your support will go towards bringing this site to you for 2009, and all the other things planned for the future. If you have not contributed yet, I only ask for donations once a year, and this pledge drive only lasts on month, so don't forget!
Paypal users can simply click the paypal button below.

If you're having trouble with the paypal link, my paypal account is
tom@tomyang.net
Checks can be made payable to "Tomyang.net LLC" and sent to this address:
Tomyang.net LLC
P.O. Box 36
Hollowville, NY 12530
Thanks again!
Previous Restoration Day
Next Restoration Day
Home page