3553 Engine Compartment Detailing
1/6/09
3553: Engine Compartment Detailing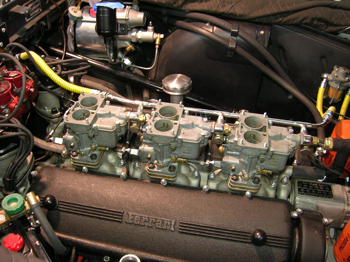 Most of the pieces from the platers have returned, so we've been installing all of them on the car. New fuel lines, with the freshly plated fittings were installed, along with black oxide carburetor nuts. The choke linkages were also plated along with the throttle linkages and fuel rail. In the upper left corner of the picture, you can see the brake booster is done and detailed with the correct sticker from Kilimanjaro Designs. I've been slowly bleeding the brake system over the past couple weeks to get all the bubbles out of the system.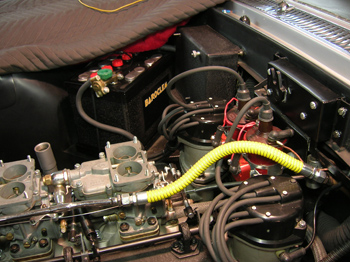 This shot shows a ton of little details from the hood latch, coils, throttle linkage, and new tar top reproduction battery. Correct battery terminals were soldered in place, a battery hold down was fabricated and painted, and the "Baroclem" sticker affixed to the side of the battery. What's left to do for this area? I need two more knurled nuts for the fuse panel, and we're waiting for the correct vacuum hose from Mike Dunn. I'm also painting the air cleaner semi gloss black leaving the nickel plated center alone.

The horn assembly is just about done. The flash from the camera does not do the finish of the horns justice as there is a translucency that does not reproduce in this picture. All that is left is a final adjustment of the trumpets against the diaphragms to tune the sound of the horns.

3553 was missing one of its oil filler/breather pipes. On early 250 outside plug engines these pipes come out of the oil pan and are held in place with a cad plated bracket. François fabricated a new pipe and bracket, but we're waiting for the plater to finish so we can finish the installation. With the new filler, we'll change the oil and filters before 3553 heads down to Florida.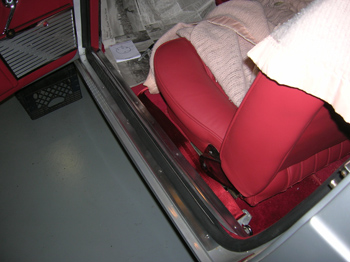 The aluminum door sill plates were polished and installed. The driver's side pieces went back in without much problem, but the right side was not so easy. With the new side panels covered in leather, not all the pieces fit back together the same way, so I had to rework some of the leather covered panels, along with trim some of the door sill plates for a better fit. I knew exactly what to do because I had to hand fit these pieces the same way with my car when I put everything back together on my 330 America years ago.
Just a reminder, I'm looking for a new Vintage Ferrari Project. If you have, or know of a restoration project, please let me know. It would be great to restore another car on this website! My E-mail.
Previous Restoration Day
Next Restoration Day
Home page