3553
1/14/09
3553: The Final Push, Part II
After pulling the splash shield behind the front wheel, I found a couple reasons why the fresh air vent wasn't closing. The flapper valve has seized, and the pull rod inside the car was broken. The flapper probably seized from disuse after the pull rod broke. We had a new cable mechanism to replace the old one, but I had to thread the end to accept the Ferrari knob. At least now the passenger can regulate the amount of fresh air that comes in!

One of the final things that gets put on a Ferrari is the air cleaner assembly. François spends several different times tuning and checking the carburetors and timing to get the engine to run perfectly, so the air cleaner doesn't get installed until he's good and done. My problem was the air cleaner top that came with 3553 had a strange hole that was patched. These air cleaners hardly ever rust, so someone mysteriously cut a hole in the top.

Unfortunately, the repair can still be seen from the top side of the air cleaner, so we substituted the top with a nicer one we had at the shop.

Another final detail was to install the front plate. Gary, the owner had custom plates made for the car when we show her on the lawn at The Breakers.

I fabricated an aluminum frame for the plate that's slightly larger. Mounting screws were secured, and the edges of the aluminum were polished. It's subtle, but does the job!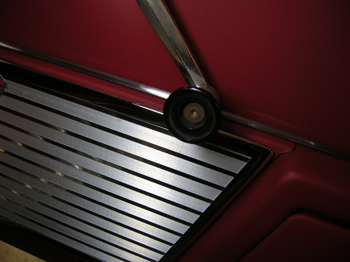 I've been studying the 3553, trying to find things I may have missed on this car, and found something! I forgot to make the caps for the window cranks! These were missing, and I forgot to make a note of this several months ago when I first noticed this, but luckily I had a plan.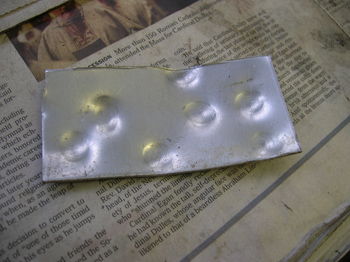 I took a piece of aluminum and hammered some dimples with a ball peen hammer. I then traced circles around the dimples that were the size of the window crank knob and cut them out.

After getting discs to fit perfectly in the window crank knobs, I sanded smooth the surface, and painted the pieces. With a coat of black gloss paint, and some glue, these discs will trim out the window crank knobs nicely.
Just a reminder, I'm looking for a new Vintage Ferrari Project. If you have, or know of a restoration project, please let me know. It would be great to restore another car on this website! My E-mail.
Previous Restoration Day
Next Restoration Day
Home page