1747
1/19/09
1747: Back to Work
With the 250 GTE 3553 on a truck headed south to Florida for the Cavallino Classic, I got back to work on the PF Coupe 1747 just before heading south myself. The engine compartment is coming together nicely, and even though I've been putting a lot of hours in on the GTE, François has been putting a little work here and there on the PF. The carburetors have been rebuilt and all the linkages with the correct finishes were put back on the car.

I worked on installing a new heater control valve and control cable. Having worked on 3553 for so long, I couldn't help myself and put the correct diamond shaped bend on the end of the cable. We also found four correct Cheney clamps for the top radiator hose. This car might not be heading to a show, but at least it will be factory correct!

Looking back at the "before" picture, the new heater hose will look a lot more at home in a Ferrari engine compartment than the old shut off valve!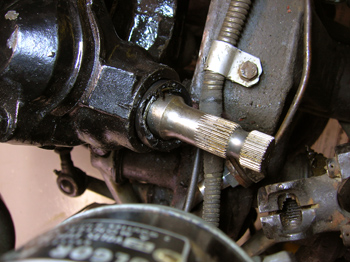 Several weeks ago I mentioned that the PF was leaking oil from the steering box and I thought it was from a new seal we already replaced. Well, I was wrong. It was actually leaking from a seal we did not replace, the steering shaft seal. It took some mangling, but I finally got the old seal out. The new seal should work a lot better than the old seal that was rock hard.

The air cleaner came back from the platers, and needed the bottom painted semi-gloss black, but I have a dilemma with the top of the air cleaner.

The top portion of the air cleaner could use some paint as well as it is pretty old and cruddy, but this car is not a show car. The bottom portion of the air cleaner was rusty and had to be plated, but if we leave the top of the air cleaner alone, it won't match the nicely painted bottom portion. Do we repaint it or not?

On closer inspection, I can see paint bleeding under areas that were previously masked for painting. It soon became obvious that this cover was already painted after leaving the factory, so the paint is not original. I'll still consult with the owner for him to decide which way to proceed.
Just a reminder, I'm looking for a new Vintage Ferrari Project. If you have, or know of a restoration project, please let me know. It would be great to restore another car on this website! My E-mail.
Previous Restoration Day
Next Restoration Day
Home page