Cavallino Classic 2009
1/22/09
Cavallino Classic 2009: I
I arrived on Wednesday night and stayed with fellow Ferrari owner Bill Tracy and his wonderfully accommodating family. I was looking forward to the normally warm weather in South Florida after leaving below freezing temperatures here in the Northeast, but was surprised to find chilly "jacket weather." Even with the cold, however, I was happy to be away from the snow for a few days!
The GTE I've been working on for the last couple of months was delivered to the owner at the Breakers the day before and I was anxious to hear what he thought of his car. When I asked if Gary got the car via text message, I was happy get the simple reply, "yes looks great." It wasn't until I spoke to Gary in person when he told me the whole story of his delivery. As the truck was being unloaded in front of the Hotel, Gary was joined by Alan Boe, a long time GTE owner, and respected judge. He immediately caught the point deductions we knew we couldn't fix before Cavallino, but overall thought the car looked good. Hearing that from Alan Boe meant a lot to me.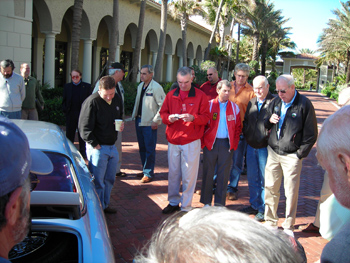 The Cavallino Weekend starts with track activities at Moroso and a morning seminar. The Seminar at The Breakers is a chance for Ferrari Historians, and serious fans of Ferrari history to discuss the restoration, preservation, and history of Ferrari cars. (Alan Boe is speaking in the mic in this picture.) The featured cars were a perfect 246 Dino, a very nice Lusso, and the story about how one Historian unearthed a rare Alfa race car that may have even been driven by Enzo Ferrari in the 20s!

I had a nice lunch at the Breakers and changed into evening wear for the Jet Aviation Reception at the West Palm Beach Airport. As usual, there was good turn out of people, and Ferrari cars. We arrived in style with Bill's 348GTS and joined everyone in kicking off the Cavallino weekend. Gary and his wife Suzy arrived with 3553 with smiles, but had a list of teething problems with the GTE. Some of them were simply operational issues like getting the reverse light to work only when the lights are on, but some of them I would have to take a look at before the show. I tried my best to have a good time at the party without stressing too much about getting the car ready for the show. I left Friday open to chase down any last minute details and time for a full buff and polish.
Just a reminder, I'm looking for a new Vintage Ferrari Project. If you have, or know of a restoration project, please let me know. It would be great to restore another car on this website! My E-mail.
Previous Restoration Day
Next Restoration Day
Home page