Cavallino Classic 2009
1/24/09
Cavallino Classic 2009: III
After a sleepless night, I woke up early to head over to The Breakers in Palm Beach. It was a short drive from Palm Beach Gardens where I was staying, but I wanted to get there as early as the officials would let me. Rumor had it they would not allow any car on the Cavallino Show grounds until 8 am, so I left at about 7:30 to get there first thing. Todd met me, and followed me over in his car.
It was my first time driving Gary's GTE, and she felt great. The engine started right up and settled into a nice idle. The Vredestein tires felt great on this car, and had great road manners. They gave the car the right stance, filled in the wheel wells nicely, and really complimented the GTE's handling characteristics. We came a long way with Gary's car, and turned this GTE into a car that anyone would be proud of.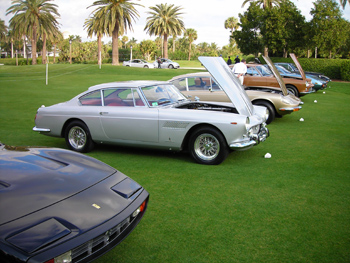 I parked in "Class 11, 2+2 Ferraris up to 2003." Gary originally wanted to enter the car in "Class 2, Ferrari 250," but I didn't think we would want to be compared to million plus SWBs and GTOs. The 2+2 category was still pretty competitive with some very nice examples. There were two 365GTC/4s, two 365GT 2+2s, and an original unrestored example of a Series I 330GT 2+2 that Peter Markowski brought from VT.
I met Gary and we began the final wipe down of the GTE. I told Gary about the brake light "repair" and asked how he felt about disclosing our "fix." I explained that the pressure switch failure was just bad luck, and I gave it my best shot at getting the brake lights working. Technically, we had brake lights when the judges asked for them, but disclosing the use of our switch may ingratiate us with the judges as opposed to angering them if they discovered our ploy. We decided honesty was the best course of action, and let the judges decide how to rule.

As the judges took their positions at 9am, I saw Tom Shaughnessy walking towards our car. I joked about him being lost, and that the cars he was looking for to judge were further up field, but I soon realized to my horror that the joke was on me when David Carte came over. If you don't know these two people, Tom is a well known collector and a purveyor of Vintage Ferrari parts, and David is a Pebble Beach level restorers having won many a top Concours. To round out the judging trio, Brian Hoyt, a well known West Coast Restorer joined Tom and David to judge our car first! I was proud of our car, but knew that these three men were more than capable of spotting the errors in this car that we just didn't have the time to correct.

When the judging was finished, I was relieved it was over. We were all hopeful for some recognition of our hard work, but I was also trying to prepare myself for coming home empty handed. I was still extremely proud of 3553, and was met with a lot of positive response from all those that came out to support us. Gary and Suzy were happy with their car, and told me that winning an award was not their only goal. My disappointment was confirmed during the Banquet that evening as they announced the class winners. We had some very tough competition, but I feel I gave it my best shot, and I know where I need to improve. I could not have asked for a more critical trio of judges, and I don't see that as a negative, but the best teaching tool for the future. As I get the score sheets from them in the upcoming months, I know I will have a template to do an even better job for future shows.
A notable well deserved win was by Admiral Phillips with his 500 Mondial. He not only won a Class Platinum, but also the Best Four Cylinder Car and the Coppa Scuderia Best of Show Competition Car! Congratulations to the Admiral and the Phillips family!
Just a reminder, I'm looking for a new Vintage Ferrari Project. If you have, or know of a restoration project, please let me know. It would be great to restore another car on this website! My E-mail.
Previous Restoration Day
Next Restoration Day
Home page