Scotch and Cigars at Radcliffe Motorcars
2/11/09
Scotch and Cigars at Radcliffe Motorcars
I've been meaning to make it down to the Baltimore area and when I called Richard Garre of Radcliffe Motorcars to tell him I would be in the area, he invited me to a little get together he has at his shop once a month.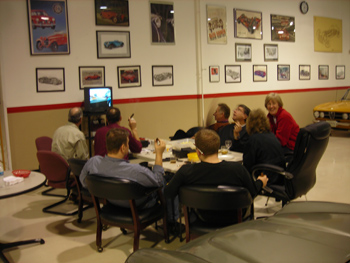 After a day of turning wrenches on the cars, the guys at the shop along with some good friends share a meal and watch some racing videos with some cigars and single malt scotch. Before I accepted Richard's invitation, I asked if I had to take my testosterone pills before I was allowed to attend, but he assure me it was not that kind of party! I had a great time with Richard, his wife Patty, and all the guys talking cars, over a "wee dram!"

A familiar face at the shop was Mark Dempsey's 365GT 2+2. Mark and I drove this car to Cavallino just over a year ago, and she was there to freshen up the transmission with new synchronizers and some clutch parts.

As Richard took this transmission apart, there was evidence of someone else being inside. There was no significant damage caused by the last mechanic, but he certainly was some ham fisted repairs!
Seeing Mark's car reminded me of the good times I had during a long distance trip in a Queen Mother, and prepared me for another one I was about to take. A few weeks ago, I was contacted by a potential new owner of a Vintage Ferrari. Tom Budinger was about to put a deposit down on a 365GT 2+2 in Phoenix, and he contacted me to ask my thoughts of driving the car home. One question led to another until he asked if I would be interested in riding along with him from Phoenix to his home in San Francisco. I felt if the car checked out mechanically during the Pre Purchase Inspection, I saw no real problem driving the car home. After agreeing to go along for the ride, I realized I had to prove my words!
Without driving back home from Baltimore, I headed directly to Phoenix to meet Tom, and our transportation for the 800 mile trip to the Bay Area. This trip had the potential to be a trip of a lifetime, or a nightmare, and I was hopping on a plane to find out!
Just a reminder, I'm looking for a new Vintage Ferrari Project. If you have, or know of a restoration project, please let me know. It would be great to restore another car on this website! My E-mail.
Previous Restoration Day
Next Restoration Day
Home page