365GT 2+2 at Harley Cluxton's Shop in Phoenix
2/12/09
365GT 2+2 at Harley Cluxton's Shop in Phoenix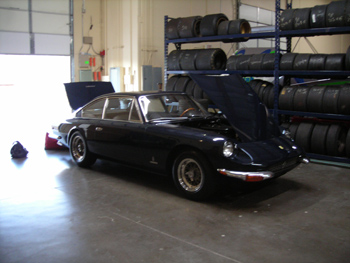 I arrived in Phoenix late in the afternoon and met the new owner at Harley Cluxton's shop in Scottsdale Arizona, a 20 minute drive from the Phoenix Airport. Tom Budinger's new Queen mother was prepped and ready for our two day 800 mile journey and there was a giddy excitement in the air!

The queen was in good company in the back shop of Harley's facility…

…but in the front show room was the real good stuff!

This was a real GTO, which the number escapes me, but I'm sure those in the know can tell us which 250GTO spends its winters in Phoenix!

What I loved was all the memorabilia all about the shop. I was of course drawn to the engines on display!

Twin turbo Renault V-6, pretty cool!

Now why can't I put a coffee table like that in my living room?
After dinner with Harley's son, Tom and I headed back to our hotel to meet another Vintage Ferrari owner. Jim Riff, a long time collector, author of a Vintage Ferrari maintenance manual, and residence of Scottsdale, came down for a drink with us. I introduced Tom Budinger to an owner of Vintage Ferraris who was there when owning one of these cars was not so easy. When Jim bought his Ferrari, not much younger than us, there was hardly any support in the repair of these cars. He and guys like Alan Boe, Gerald Rousch, and Hilary Raab, shared all that they gathered with each other via U.S. mail, or telephone calls. They managed to create a network of help well before the Internet and what we do on it today, so I am always happy to share a drink with the guys that laid the groundwork for the hobby we have today.
Just a reminder, I'm looking for a new Vintage Ferrari Project. If you have, or know of a restoration project, please let me know. It would be great to restore another car on this website! My E-mail.
Previous Restoration Day
Next Restoration Day
Home page