Bob Wallace's Shop, and LA Bound
2/13/09
Bob Wallace's Shop and LA Bound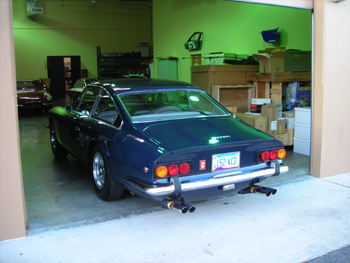 We arrived back at Harley Cluxton's shop to meet Harley Jr. to pick up the Ferrari. There was rain in the forecast and I asked Harley Jr. sheepishly if the wipers worked. Tom didn't get the joke because this was his first Vintage Ferrari. We were all pleasantly surprised to find them working, but I applied a layer of Rain-X to the windshield anyway!
The planning for this trip began a several days before I flew out to Phoenix to meet Tom and his newly purchased car. Since I was going to be in the Phoenix area, I asked around who I should meet, or what shops I should visit. Several people told me Bob Wallace was in Phoenix and worth looking up. With any amount of research, you will find Bob Wallace is a legend in the business of Italian cars. He was instrumental in the testing and development of the Lamborghini Miura, and worked at many Maranello race shops back in the 60s. Eventually, he grew tired of the Italian politics, especially since he was a New Zealander, so he moved to the United States where he now is a legend in the business of building some spectacular Ferrari engines.
With this much history, I was a little intimidated in calling Mr. Wallace up and asking for a "tour!" When I asked Jim Riff for advice, Jim explained that "Bob has the reputation as being a cantankerous old man. "
"Oh, you mean, he has good days and bad days?" I replied.
"No, Bob is always cantankerous."
"Oh."
It took me a whole day to build up enough nerve to call Mr. Wallace and talk him into meeting us. His first response was,
"I'm not a restorer of Ferraris, so there really isn't much to see. It's just a bunch of the same old shit."
Trying a different angle, I explained I was very interested in Ferrari mechanicals, and would love to see anything he had in the shop for a SHORT visit.
Eventually he warmed up, and said a visit would be fine. I told him that we could see him early Friday morning before we left town. I asked him what time he got to the shop in the morning, and he said, 5:30….I told him we would be there at 8!

Bob Wallace's description of "Just a bunch of the same old shit" would impress anyone. He's truly a talented machinist, fabricating just about any mechanical component in a Ferrari. When he's done with something, it's not just a rebuild, but completely remanufactured with all new components.

I can see why he claimed not to be a restoration shop because he was fabricating this complete car from scratch! This was a Ferrari 166 that started out with just a chassis and a 212 engine block. Bob Wallace is fabricating the rest of the car. Everything from heads to the steering box is being made from raw materials. The Ferrari Factory may never recognize this car in their Classiche Certification Program, but everything is being made exactly as it once was…with a few Wallace mods!

These 212 heads were fabricated to use coil springs. While chain smoking Marlboros, Bob explained no one makes adequate hairspring replacements, so this common modification is about the only choice. Once the valve covers are installed, no one will ever know.

As with any top shop, everything was laid out with order and precision.

You know how they say a picture says a thousand words…Well, this one definitely speaks volumes about how Bob felt about getting his picture taken with me. No, I did not "photoshop" myself into this picture, but I might as well have! Someone suggested I should get a picture with this automotive legend, and so when I asked him if I could take a picture, the machinist reluctantly agreed.

Mr. Wallace followed us outside to see what we had purchased from Cluxton. He seemed to approve of our drive, and said, "You gotta take 'er out to the desert and open 'er up!" Who could ask for a better blessing than that from a Legend in the Business!

After Wallace's shop, we got on the I-10 west bound for Los Angeles. The weather was perfect for Ferrari Driving; low 70s, clear and dry. The car ran well, but had a slight vibration at about 80 mph. I suspected it was the tires because below 80 or above it, the vibration went away, independent of what gear we were in. It wasn't too bad, but was being put on the new owner "To Do" list.

I consulted the Oracle (my GPS nav unit) and found a place called "Steaks n' Cakes" in Blythe CA, right off the I-10. Tom and I both had Chicken Fried Steaks and eggs for lunch. If you're not familiar with chicken fried steaks, then you haven't lived, or is that, tried to kill yourself with food! It's a batter dipped flank steak covered in a white sauce made largely from cooking fat and flour. It may sound unappetizing, but how can anything dipped in batter, deep fried, and smothered in fat taste bad? Besides, when in Rome…

Four hours later, we arrived in Riverside California, a city an our outside of the Los Angeles sprawl. Timo Tanskanen owns a shop in Riverside that began over 20 years ago. It started all with Chrysler Imperials and 300s, a personal passion. Through the years as he got better and better, he restored a couple of these 50s era American cars to top show levels. In recent years, a couple of his restorations broke all time auction records for that particular model! As with any skilled restorer, owners of car collections own Ferraris, so Timo was asked to work on a couple if Italian cars. His diligent research on Vintage Ferraris eventually led him to my website. Hearing that we would be driving by his shop, Timo invited us to stop by for an early dinner, avoiding the horrendous Los Angeles Friday traffic.

Timo had two Daytonas in his shop, and had done a spectacular job rebuilding the rear suspension, but it wasn't until I got home did I realize I hadn't taken any pictures! We were so busy talking shop, that I forgot to photograph his work! I did get pictures of Timo's own project, a 32 Ford hot rod with a Hemi engine. As with most mechanics, his business leaves little time to work on personal projects, but at least it's finished!
Mike Wegner, a tomyang.netter also stopped by to join us for dinner, so we headed out for Timo's favorite Seafood restaurant. Mike was also in the automotive trade, buying and selling cars to the European markets, so we had a lot to talk about.

Everything was going as planned, and even the weather was cooperating. We had dry conditions until about 20 minutes before Riverside, and the rain did not come down heavy until after we stopped at Timos. After dinner, the rain stopped and cleared up for our drive into LA. We couldn't have asked for a better place and time to stop. Thanks Timo!
I stayed in Westwood, and met a Fellow Ferrari owner for drinks while Tom Budinger stayed with some family friends in Bel Aire. Tom Wilson (what's with all these Toms?) and I talked more cars until two glasses of wine started to put me down. It was time to call it a night, especially since my day began at 5 am!
Just a reminder, I'm looking for a new Vintage Ferrari Project. If you have, or know of a restoration project, please let me know. It would be great to restore another car on this website! My E-mail.
Previous Restoration Day
Next Restoration Day
Home page