Patrick Otis' Shop
2/15/09
Patrick Otis' Shop
Since I was already in San Francisco, I decided to stay a couple extra days to see some sights and visit some friends. You can imagine the sights had nothing to do with Lombard Street, but rather some Ferrari shops! My friends Michael (330 GTC) and David picked me up for lunch, and we stopped over at Patrick Otis' shop.

Inside a nondescript building in Berkeley, Patrick Otis' shop turns out some fantastic Pebble Beach show winners, but considering it was a rainy Sunday, the owner was found working on his personal car, an Alfa Romeo 2300 8C! Patrick mentioned something about the cobbler never having time to fix his own shoes, well anyone would be proud of a pair of shoes like these!

The history of this Alfa Romeo spanned from cruising around in Italy, hiding under a haystack during WWII in France, to driving on the streets in NYC! In Patrick's care, he's restored the sagging frame, repaired and painted the body. It's a truly spectacular car.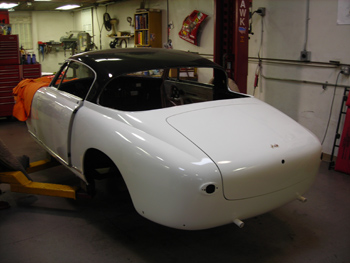 Nearby was the next Ferrari slated for the show circuit. Otis' shop is usually preparing half a dozen cars at a time for shows all over the U.S.

The shop space next door was devoted mainly to engine and mechanical work. The shelves were full of parts for Vintage Ferraris.

Patrick also explained that his shop rebuilds dozens of engines a year for owners all over the country, and even other restoration shops. We talked a lot about his techniques and services, and I picked his brain about everything from head gaskets to engine liners. I couldn't ask a better person with the experience to back up his answers. It was also great that I was able to compare and contrast Patrick's shop with the recent visit to Bob Wallace's shop. I was learning as fast as I could!
One thing Patrick told me that stuck in my mind was that he did a survey of the 25-30 Ferrari customers he regularly services on how many miles they covered in their cars in a year. He quickly discovered his customers averaged about 800 miles a year! Somehow I wasn't shocked, but I was also proud that we broke that average in the last two days in Tom's Queen!

Back at Patrick's main shop we talked about how we all got into the business of Ferraris. We shared the appreciation for all things mechanical, and Patrick pulled a piece of machinery off a nearby shelf. This was the first stage of a two stage supercharger that came off a 166 Ferrari race car. The car is long gone, but Patrick had the last surviving piece!
We marveled at it's design and beauty, and I'm sure when the business gets hectic, Patrick keeps this relic close at hand to remind him why he still does it! Thanks Patrick, for sharing.
Just a reminder, I'm looking for a new Vintage Ferrari Project. If you have, or know of a restoration project, please let me know. It would be great to restore another car on this website! My E-mail.
Previous Restoration Day
Next Restoration Day
Home page