Bay Area Shops
2/16/09
Bay Area Shops
On Monday, we still had a few things to do, and one of them was to pick up Tom's car at the Airport. It had been raining for the last couple of days, but Tom was not concerned about driving his car in wet weather. I followed him back from the Airport in his AMG Mercedes CLS 63 (what a mouthful!).

Parked on the street, it was interesting to see a similar shape in these two cars. When Mercedes introduced this model, people were talking about the long sleek sloping design, and yet, the Ferrari was shaped like this 40 years ago. It just goes to show how timeless in design some old Ferraris can be.

One thing we noticed as we drove the car in San Francisco was the exhaust was getting louder and louder. Peeking under the Ferrari, I saw a patch on one of the mufflers had worked itself loose. After wading through a flooded parking lot, we pulled the 365GT into my friend Tom Knudsen's shop in San Carlos. (Yes, another Tom)

This was the first time I had a chance to take close look underneath the Queen since Tom Budinger bought the car. Although it was a little late to spot anything horribly wrong with the car, we were happy to confirm the positive results from the Pre Purchase Inspection Harley Cluxton made in Phoenix. Being a fellow 365 owner, Tom Knudsen stated, "Well Bought."

When we took a closer look at the leaking muffler we saw the "patch" was actually a license plate pop riveted to the muffler!

Even though a new exhaust is in the future for this car, I wanted to see what we could do to nurse it along for a little while longer. Before arriving at Tom K's shop, we stopped by a Home Depot and headed for the plumbing department. With a few long hose clamps in hand, we were ready for our "repair." In less than 56 hours, we spanned the full spectrum of Vintage Ferrari ownership, from being introduced to some of the biggest names in the Vintage Ferraris, to shade tree muffler repairs with a couple of hose clamps!

Tom Budinger headed back into the city with his quieter car, and I headed to lunch with Tom Knudsen. After a nice meal, Tom took me on a tour of local shops that work on his cars. The first stop was to meet Dayal at "Prancing Horse of California" in Burlingame. Dayal is a factory trained mechanic that owns an operates a shop that has been around for years.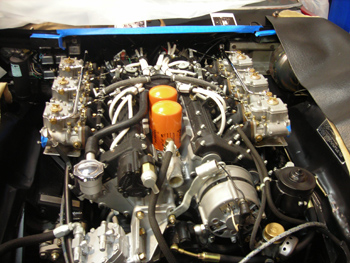 The Ferraris in his shop spanned nearly 50 years, with very nice clean work being done to them all.

The next stop was to meet Charlie Potts at California Classics, also in Burlingame. Tom's getting a Honda roadster stripped and painted at Charlie's shop, and Tom wanted to see the car after chemical stripping.

Here's Charlie and Tom marveling at how well these Japanese frames were made.

Another interesting car in the shop was this Iso Griffo. These cars were 60s Italian designed and manufactured with American drive train.

This example had a lot of previous repairs that needed to be corrected before any paint could be sprayed.

All of this older repair will have to be cut out, and a new fender will have to be fabricated. I'm sure California Classics will handle this repair with a little more finesse than this brazed on strip of steel.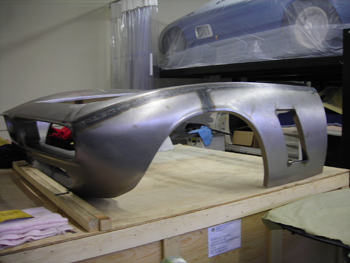 A short cut was taken with the nose of the car, as a company in Italy with the original bucks is making complete bodies for this car. The complete nose came by ship in a very large box, and will have to fitted and attached to the waiting chassis.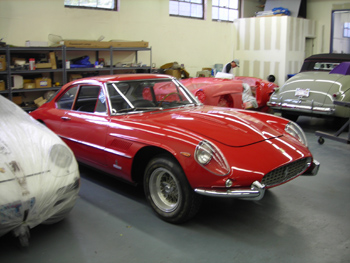 Everywhere I looked in the shop was another car in the process of new paint. This 400 Superamerica is waiting in line for a complete paint job.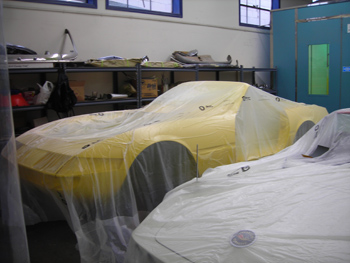 Charlie explained this Daytona Spyder (a real one) is getting the California Classic Ferrari Yellow paint job. As you can imagine there are many shades of yellow, and when yellow Ferraris get together, it becomes evident that some yellows look better than others. This shop has found a nice yellow that the customers love, and they've painted several Ferraris in that hue. At least Charlie can guarantee that all of Cal Classic yellow cars will match when they park next to each other!
After another long day of visiting shops and talking cars with friends, Tom dropped me off at the Airport for a red-eye flight back to the East Coast. As much fun as it was, it was time for me to head back to work. It was a ton of fun, but I was anxious to get back to working on some Ferraris!
Just a reminder, I'm looking for a new Vintage Ferrari Project. If you have, or know of a restoration project, please let me know. It would be great to restore another car on this website! My E-mail.
Previous Restoration Day
Next Restoration Day
Home page