7919
3/5/09
7919: Engine Assembly Begins
We finally got the block and heads from Art's 330 back from the machine shop. The combination of a busy shop and undoing the work by a previous machine shop was the cause for the delay.
On visiting several shops and speaking to different engine builders, I've found there is no ONE way to rebuild a Ferrari engine. There are schools of thought that say to change everything in an engine, while other rebuilders only change what is necessary. I will not attempt to announce the right way to rebuild a Ferrari V-12, but will show some of the things I will be taught in assembling this engine. François has been building engines since his apprenticeship at the Ferrari Factory in the mid sixties, so his training goes back to how the factory did it when these engines were new. He has also learned a lot from all years of rebuilding Ferrari engines, so I look forward to my schooling.

The bores on the block were checked and showed that a set of oversized pistons could be purchased and installed by boring the cylinder liners to accept the new size. The machine shop removed the head studs to do the boring, so the first thing to do was to reinstall the head studs. Luckily, all of them came out without stripping the threads, so everything went back with relative ease.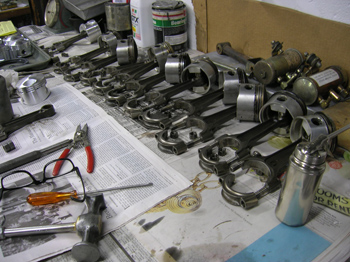 My next job was to remove the old pistons to install the new ones from JE. François laid all 12 pistons in order with the matching caps and rod nuts so things would not get mixed up. I did one piston at a time so keep things in order.

I don't remember if I showed this before on this engine, but one of the big problems with this engine was some major scoring of the piston skirts. Sometime during the life of these pistons, they overheated, expanded, and seized against the cylinder walls. Upon measuring the pistons, they were actually oval in shape! After looking at the other details of this engine, it was obvious someone had been inside before, but who knows if these pistons were out of another car, or what was used for the previous "rebuild." François has seen his share of hack rebuilds, but this is the first time he's seen pistons in such an oval shape. Here's what we found on this engine several months ago.

After installing the new pistons, I had to install the new rings. I double checked the end gaps in the cylinder bores to make sure everything was in tolerance, and proceeded with the assembly.
Although I rebuilt my Mustang Engine a couple of years ago, I was learning a ton of techniques by working on this Ferrari engine with François' guidance.
At the end of the day, François said, "you're doing a good job!"
That's high praise from someone with such high expectations!
MARK THE DATE: Saturday, May 2nd 2009
The Tomyang.net/ Radcliffe Motorcars Spring Event
12340 Owings Mills Boulevard
Reisterstown, Maryland 21136
Read about last year's event.
Information on this year's event.
Just a reminder, I'm looking for a new Vintage Ferrari Project. If you have, or know of a restoration project, please let me know. It would be great to restore another car on this website! My E-mail.
Previous Restoration Day
Next Restoration Day
Home page