5053 Head Gasket, and 3553 Preparation for Spring
3/28/09
5053 Head Gasket, and 3553 Preparation for Spring
I installed my head gasket with a special gasket dressing. It's a product recommend to me by Baltimore Head Works, and Radcliffe Motorcars. There have been a lot of problems with head gaskets sealing, so finding the correct gasket and using the right sealer hopefully will insure a leak free seal. I've got my fingers crossed. If everything works, I'll reveal my methods!

Using steel shim stock to locate the o-ring in the timing chain case, I lowered the head into place and torqued to 65 ft/lbs. With both heads installed, the next step was to make sure the timing chain and cams are lined up correctly.
An interesting note on cams. François explained that setting everything on its marks does not necessarily guarantee a perfect Ferrari engine. With such a long camshaft, they can twist over the years so it's pretty important to "degree" the cam to make sure the lobes are where they should be. In fact, we have a four cam engine at the shop that François found one of the exhaust cams to be off by 4 degrees to spec. A previous engine builder set the engine back on the Factory marks and thought he was done, never understanding why there was a stumble in the engine at about 3000 rpm. Not all Ferrari engine builders are the same.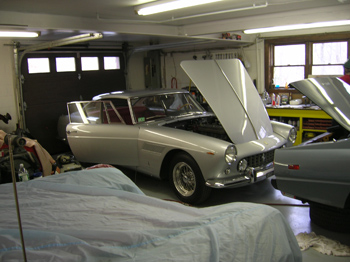 Gary's GTE came back in the shop to ready for delivery. We just had a couple more things to complete so he can drive the car for spring. I finally figured out why the fog lights were blowing the fuse! One of the leads to the lights was just touching the body of the lamp, and occasionally, it wouldn't touch at all. After taking the lamp off again with a new fuse installed, it popped just as I put the lamp back in place. Bingo!
François' shop is overrun with 2+2s 3:2, My 330 America, Gary's 250GTE, and a 400i!

We sent the front seats back the upholsterer to fix a couple of details, but when I went to reinstall them in the car, I found the studs too stripped to use again. I drilled and tapped new holes for a much more secure fit.
MARK THE DATE: Saturday, May 2nd 2009
The Tomyang.net/ Radcliffe Motorcars Spring Event
12340 Owings Mills Boulevard
Reisterstown, Maryland 21136
Read about last year's event.
Information on this year's event.
Just a reminder, I'm looking for a new Vintage Ferrari Project. If you have, or know of a restoration project, please let me know. It would be great to restore another car on this website! My E-mail.
Previous Restoration Day
Next Restoration Day
Home page