Ferrari Challenge at Road Atlanta and Alan Boe's GTE
4/17/09
Ferrari Challenge at Road Atlanta and Alan Boe's GTE
On my southern trip to Georgia, we swung through Atlanta on our way back to New York. The same weekend The Ferrari Challenge was being held at Road Atlanta, and David Seibert of Ferrari North America was nice enough to arrange my access to the event.

Ferrari Historian Alan Boe agreed to meet me at the track and brought out his 250 GTE 3339. Alan has owned this car for over 30 years and it was nice to see a Vintage Ferrari parked among all the modern Ferraris in the paddock.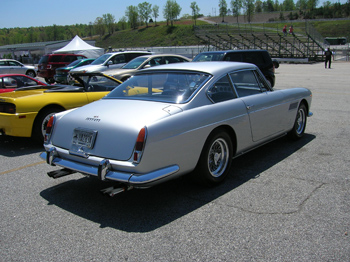 This GTE was painted about 10 years ago, with the some of the chrome replated, but it's a largely untouched car. Alan showed me some of the details that were unique to this car, some of which I spotted immediately.

Neither Alan nor I have ever seen tail lights on another car that looked like the ones on SN 3339. The bottom portion of the light where the clear reverse light would normally be had a red reflector.

With only the front seats re-upholstered, this GTE had it's original interior details intact, along with some more unique features.

The electrical switches were not the normal round push/pull knobs found on most GTEs, but rather had plastic rocker switches found in a Series I 330. The vent levers also look like they came from a later car. With no sign these were modifications done after the car left the factory, Alan and I can only assume they were installed from new. Perhaps the best theory is Ferrari was experimenting with new switches slated for the Series I 330s by installing them in this GTE while it was going down the assembly line.

Another interesting detail was the vent knobs below the dash. These are flat plastic knobs on my car but seem to be brass or some kind of bronze on this GTE.

It was hard to get a decent shot of the engine compartment in the bright Georgia sun, but everything was neat and clean.

Alan invited me to come with him down the road from the racetrack to see Graham Everett Motorsports. Graham was working on Alan's low mileage 1979 Porsche 930 Turbo. It's a beautiful Gulf Blue 911 that's another original car in the Boe collection.

Graham works largely on air cooled 911s, and had several projects in the shop.
MARK THE DATE: Saturday, May 2nd 2009
The Tomyang.net/ Radcliffe Motorcars Spring Event
12340 Owings Mills Boulevard
Reisterstown, Maryland 21136
Read about last year's event.
Information on this year's event.
Just a reminder, I'm looking for a new Vintage Ferrari Project. If you have, or know of a restoration project, please let me know. It would be great to restore another car on this website! My E-mail.
Previous Restoration Day
Next Restoration Day
Home page