Stamford, NY Car Show
7/5/09
Stamford NY Car Show
My friend Mike Meehan has been inviting me to a car show in his town of Stamford NY for a few years, and I've never been able to make it. This year, I had the time, and my Ferrari back on the road, so I took it across the Hudson River to the Catskill region of NY State. Mike owns a 365GTC/4 and I couldn't let him remain the only Ferrari at his local car show!

We weren't the only V-12 cars at the show however, with this nice Lincoln Zephyr sedan parked not too far from us.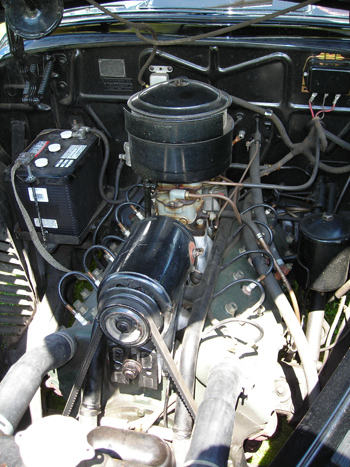 Even with the same number of cylinders, the thirties flat head design made for a low revving engine, but talk about smooth and quiet!

There was easily over 200 cars in attendance, but just when Mike and I thought we would be the only Ferraris at the show, a 430 Spyder and a Spyker rolled onto the lawn! What a treat to see such exotic cars attending a small town car show. What was even cooler, was when I met the owner, he knew about this website! Small world.
Just a reminder, I'm looking for a new Vintage Ferrari Project. If you have, or know of a restoration project, please let me know. It would be great to restore another car on this website! My E-mail.
Previous Restoration Day
Next Restoration Day
Home page