Road Trip to the FCA Meet Part I
7/27/09
Road trip to the 2009 FCA Meet Part I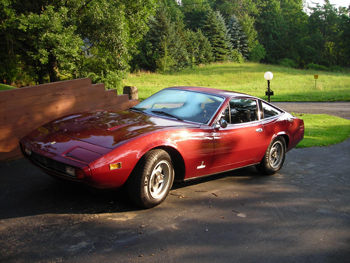 Sam Hallowell completed the first part of the road trip by arriving at my house in Upstate NY from Rhode Island. His car, a Ferrari 365GTC/4 performed well even though he was caught in some Sunday afternoon traffic on the Mass Pike.
We hit the road at about 7:30 am Monday morning from Claverack, NY with partly cloudy skies and a cool morning. We were hoping for continued cloud cover because the Ferrari's air conditioning had decided on this trip to stop working! Since I was used to non existent A/C in older cars, I dressed in appropriate clothes!

The first day of driving together would be our longest at about 440 miles. We had considered taking some smaller country roads, but needed to be in Ohio at 5pm, so I90 west was our best choice for covering lots of ground without delay. We managed to keep the speeds to around 75-80 mph most of the way without attracting much attention in the 65 mph speed limits, but the State Police were hard at work this last week of the month! The Ferrari ran great, and never missed a beat. 3000 rpm kept the pace to 80 mph, and without downshifting to 4th gear, there was plenty of torque to pass with ease. I felt the power steering in the C/4 made the car more sensitive to input at highway speeds, but the trade off was fantastic low speed maneuverability in parking lots and city streets. Once I got used the high speed sensitivity, highway driving was very relaxed. The cabin temps were comfortable except for when we were in bright sunshine and the midday heat started to rise. The abililty to open the quarter windows allowed us to direct airflow to where we wanted, and even with all the windows open, we were able to carry on some conversation without losing our voices.
We arrived in Elyria OH, just west of Cleveland at about 4:30pm, and checked into the Holiday Inn. Like clockwork, my phone started ringing at 5 pm from the local Ferrarista waiting for our arrival. Tom Kizer unfortunately had last minute mechanical issues with his 365GT 2+2, but drove down in a regular car from Montreal and was staying in our hotel. General Marsh, a retired Veterinarian and long time Ferrari collector invited us out to his shop in Elyria and offered overnight parking for Sam's C/4. Although Sam felt safe enough parking his car outside the hotel, we took General up on his offer to see his shop.

About 10 minutes from the Hotel, we found General's garage to be the envy of us all. It was not a polished painted floor type shop you often see in magazines, but this shop had character. Everywhere you looked you saw something interesting, from wooden boats to airplane engines. Work benches were covered in old tools and various little projects, and the shop contained a bunch of neat cars. The Ferraris included a 355 Spyder, a carb 308 with 29K original miles, and P3/4 replica! General used to own a 250GTE, and a Dino 206 that was actively campaigned on the show field in the 80s, but have all been sold to make room for other projects. The real focus of General's attention these days was the restoration of wooden Chris Craft boats!

Joining us at the shop were three of General's oldest friends. They brought a late model Morgan +4 and a wonderful green Triumph TR-3. The camaraderie of these old friends made me happy just to be part of it that evening. We made reservations for a local Italian restaurant and headed out en mass.

Jim Gerkin and his son James, a local 330GT owner, met us at the restaurant in his Ferrari 430. (Brave Soul to own a modern Ferrari in the Cleveland area without the support of a local Dealer!) With 9 car guys at the table, we covered a lot of topics over great food and drink. There were moments during the meal where I sat back marveling at how four sets of strangers were brought together that night and you wouldn't even know it from the jocularity we had with one another. The common ground of old Ferraris brought us together, but it was our enthusiasm for all things mechanical that made for such a fun evening!
Just a reminder, I'm looking for a new Vintage Ferrari Project. If you have, or know of a restoration project, please let me know. It would be great to restore another car on this website! My E-mail.
Previous Restoration Day
Next Restoration Day
Home page