Road Trip to the FCA Meet, Part IV
7/30/09
FCA Road Trip 2009 Part IV
I managed to get some sleep, but still got out early to watch some of the cars roll in. I stayed at the Sebkins Resort next door which was a short walk over to the Concours held on the lawn of the Ostoff.

One of the first cars I saw was Admiral Phillips' car arriving in his parking space. I've been following this car for over a year and having it at Elkhart Lake brings this little blue car full circle in its history with the Admiral. In the late 50s, a gearbox failure on the track at Road America in Elkhart Lake is what precipitated the sale of this car into the Admiral's hands 50 years ago!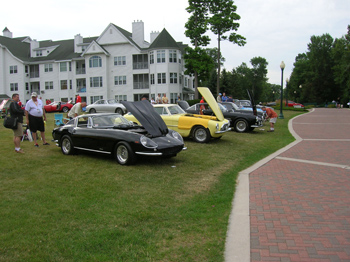 There was a very good turn out for Vintage Ferraris this year at the Ferrari Club National Meet. Some familiar faces like Elliot's 275GTB/4 or Chris' 410 Superamerica, but also a freshly restored 375 America with one off Vignale body. Pretty neat stuff!
Just a reminder, I'm looking for a new Vintage Ferrari Project. If you have, or know of a restoration project, please let me know. It would be great to restore another car on this website! My E-mail.
Previous Restoration Day
Next Restoration Day
Home page