Motion Products
7/31/09
Motion Products
I know some of you were looking for a full report on the FCA National Event, but I'm more excited about what I did before and after the show!

Friday morning, I gathered a group of about 8 people in two cars to head out to Neehah Wisconsin. We had an invitation to visit Motion Products, one of the top Ferrari Restorers in the country. There were three buildings in Neenah that represent the company, and Mark Poulter who heads up their parts division, led us on our tour.

One of our first stops was to see their parts inventory. Like kids in a candy store, we spread out among all the parts that were stock piled on the shelves. Some of them were reproductions made in house (more on this later) and some were pulled off of parts cars. It was wonder they didn't check our pockets before we left because I'm sure every one of us saw something on these shelves that we could use on our cars!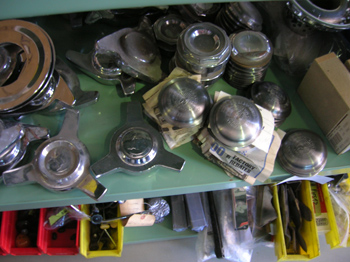 I told Mark how excited I was to see all the reproduction parts that Motion Products has made. My dream is create a list of available parts from all the shops in the world so we can stop making parts twice. If we align competent shops together to make only one set of reproduction parts, think how many more parts can be made!

It would also be useful to know where to get irreplaceable parts that people have wasted countless hours looking for when they're readily available one phone call away!

The exciting thing about Motion Products is their high tech methods of reproducing parts. They have several books of detailed drawings of parts they've reproduced. All these files are on a computer and can be fed into several different machines like a CNC milling machine, or even a rapid prototyping machine that deposits metal much like a printer deposits ink to paper. With this process, the finished piece could be plated and installed right onto a car! Just think of the possibilities for emblems, trim pieces, and little dashboard doodads that have gone missing!

Jim showed me the scanner they use to make some of these parts. Once it's referenced to the part with some dots, the 3-D scanner used lasers to register the part in three dimensional space with an accuracy in the thousandths of an inch! So do you need an accurate model of a GTO?

All around the shop were neat cars. I should start an Abarth spotters' page on this website, as this has to be the 6th one I've seen in all my travels.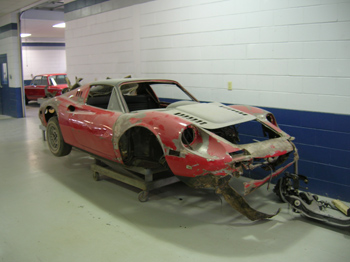 This Dino 246GTS could use some TLC.

There was even a Sunbeam Alpine sitting in the rear yard! I was told the car was headed to the scrap heap next week, so I made a beeline for the car since I own a Series V. The door handles were good, along with the boot lid, glass, and top frame. I struggled with the taking the time to strip some of the stuff I could take home with me on the plane, or to continue with the tour of Motion Products. Unfortunately, I had to leave the Sunbeam.
The second building was where the Ferraris were being restored, and ironically, we were not allowed to take pictures. Cars in this building will be revealed to the world when they are completed, and so we had to keep images from leaking out. I met Chris who does the electrical systems on the Vintage Ferraris, and it was nice to "talk shop" with the guys.

The third building was their performance shop complete with chassis dyno. A lot big horsepower cars were in for upgrades.

This building also housed the race shop for Vintage Ferraris. In this corner of the shop were a line of Ferrari Boxer engines.

One of them saw some kind of catastrophic failure.
We left Motion Products in awe. They have a very nice facility making some top notch cars. I'm looking forward to using some of their expertise to keep the Vintage Ferraris alive!
Just a reminder, I'm looking for a new Vintage Ferrari Project. If you have, or know of a restoration project, please let me know. It would be great to restore another car on this website! My E-mail.
Previous Restoration Day
Next Restoration Day
Home page