Believe it or Not, I Actually Work!
8/8/09
Believe it or Not, I Actually Work!
Besides project managing a restoration at Bill Pollard's shop, I've also been working at François' shop on several projects. Three cars have converged at François' shop, all needing attention. Scott Garvey's GTE is finally back from paint and needs to be reassembled, a California Spyder is back from the upholstery shop and needs final detailing and tuning, and a Lusso is back from a second paint shop and needs reassembly as well.

Before any of that work begins, I was put on 1747, David's PF coupe. It's very close to delivery, and I had a couple of things to address. I got a chance to drive the car, and it was the first PF coupe I've driven. This example drove very well, and had very nice road manners. I did not push the car very hard, but the engine pulled very well. This is a disc brake car, and stopped very well especially since we completely rebuilt the braking system. David also bought Blockley Tires for his car, a U.K. made tire that I was curious to try out. They have that tall 50s vintage look, but are made with modern materials and design. Like I said, I did not push the car's lateral acceleration, but the tires had good road feel with very little road noise.
The clutch was light like most 250 series cars, and the ride was supple with the usual Vintage Ferrari feel. The PF Coupe does not give the impression of being a racer, but rather a "Grand Dame" of GT cruisers. I'm sure like most Ferraris, however, if pushed, will perform admirably.

Some little issues turned up during our test drives, with one of them being loose vent windows. There wasn't enough friction holding the vent windows open, so the windows would flop closed when driving. A closer inspection found one of them missing the bolt that locks the pivot post in place. A stripped receiver needed to be drilled and tapped for a new bolt to be installed. The other window simply needed an tightening.

Although this car isn't even in the shop, I was still working on getting the headers coated. Art's 330GT 2+2 will probably be getting the engine and transmission installed in his car in the Fall, but I had the headers ceramic coated. Jet Hot does such a nice job, and I just love looking at and holding the headers after the process. Preeeetyyyy!

With the Cal Spyder, one of the little details we're working on are the electric window switches. These three wire switches are made by "Microtecnica" and one of them is beyond repair. The problem is finding a matching switch to the good one!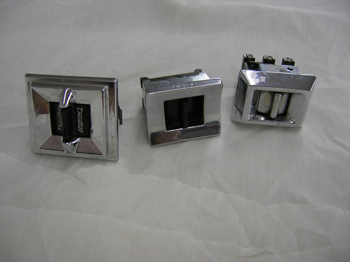 In our box of good switches, none of them matched what we needed, and I heard finding a good switch will be a challenge. Anybody have something in their goody box?
I'm off to Monterey, and I hope to see some of you out there!
Just a reminder, I'm looking for a new Vintage Ferrari Project. If you have, or know of a restoration project, please let me know. It would be great to restore another car on this website! My E-mail.
Previous Restoration Day
Next Restoration Day
Home page