Driving an Alfa Romeo 8C Competizione
8/26/09
Driving the Alfa Romeo 8C Competizione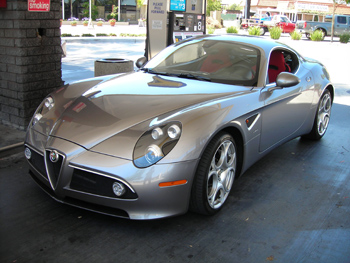 Last week I had the rare opportunity to drive my friend Tom's Alfa Romeo 8C Competizione. It's an Italian hybrid built from components designed and built between Ferrari, Maserati, and Alfa Romeo. Let's see if I can get this right, it has an engine block from a Maserati that has its roots from Ferrari, a gear box from from a Ferrari, heads designed by Alfa Romeo, and carbon fiber body designed by Alfa as well. The engine has a larger displacement than its Italian cousins, and its sound it truly unique. Besides its gorgeous body, the exhaust note is something to remember. We spent a a lot of time trying to find the right combination of trailing throttle to get that wonderful exhaust burble no one else seems to have!

Driving the car down into Monterey, we joked about looking like a couple of poseurs, but in a car like this it's hard not to be seen. Everywhere we went, heads turned and camera phones clicked. The only good thing was the attention was aimed at something that was truely deserving, not like some of the garish super cars that look more like cartoon drawings done by a 14 year old. The 8C has an understated grace with perfect proportions, and just enough sex appeal to let the casual observer know that there was something out of the ordinary.
After overcoming the beauty of this car, we tried our best to be objective about the rest of the car. With 450 hp from this 4.7 liter V-8 there was plenty of power, but the car only comes with a paddle shift transmission. It's the best F1 transmission available, but unless you're always driving 7/10ths or better, the shifting is a little off. In auto mode, and in normal California stop and go traffic, the transmission is too indecisive, often slipping the clutch. In manual mode, 1 st gear is slipped from a standing start, but all the other gears are slammed into gear regardless of throttle position. Tom and I tried all weekend to master the human to machine integration, but I had the least success. Until Ferrari installs the mind reading chip into their transmissions, I'll stick to manual transmissions.

The 8C has less luggage room than a LeMans prototype! Even though it's a front engine car, it has no trunk, but instead a rear shelf that will block the gun slot rear view if you put anything thicker than a book back there. The only place for us to store our luggage was the shallow shelf behind the front seats.

Everything is carbon fiber, including the body. The details were accented in brushed aluminum and looked great. The only thing we didn't like was a garish red spot light that added extra illumination from the overhead console when the driving lights were on.

Tom has owned this car for about a year and has been thinking about selling it. This trip to Monterey was supposed to seal his decision, but has only brought more indecision. The F1 transmission is our least favorite thing about the 8C. We felt there just wasn't any challenge to driving this car without a manual on regular roads at regular speeds, but the power, sound, and great looks of this car just makes your heart ache for more. I'm just glad it's not me making the decision. Good luck Tom!
Just a reminder, I'm looking for a new Vintage Ferrari Project. If you have, or know of a restoration project, please let me know. It would be great to restore another car on this website! My E-mail.
Previous Restoration Day
Next Restoration Day
Home page