Glass, Oil Leaks, and Mystery Parts
9/19/09
Glass, Oil Leaks, and Mystery Parts
One of the neat things about what I do is learning about another aspect of these old cars. I've been working on side window glass on a restoration, and there was small chip on the side of the glass. I called around to see if anything could be done about this chip, and the consensus was "No." I learned that there is usually two types of glass found in automotive glass, Safety Glass and Tempered Glass. Safety Glass is usually found on windshields where two pieces of glass are held together with a layer of plastic. The plastic layer holds the glass together when there is an impact so shards of glass do not fly everywhere. Tempered glass is usually found on the side windows, is one layer, and is heat treated to be a little stronger than untreated glass, but when it breaks, it shatters into a million little pieces. The glass is cut, drilled, and shaped before the tempering process because after the process, any manipulation can cause the glass to shatter.
The only choice I had was to make a new piece of tempered glass using the original piece as a template. I found a great local glass shop that has been in business for 90 years, and know they'll do a great job. The next step is to reproduce the Italian stamp on the side glass. Stay tuned.
David, the owner of The PF Coupe 1747 is coming up to the Northeast to drive his car for a couple of days. We plan to take his car for a "shake down" drive before he takes it on an upcoming road rally. François and I have been using the car to make sure everything is in working order, and I found a little oil leak coming from behind the cam cover.

The old gasket was not keeping the oil contained in the engine, so I cut a new one from some gasket material we had at the shop.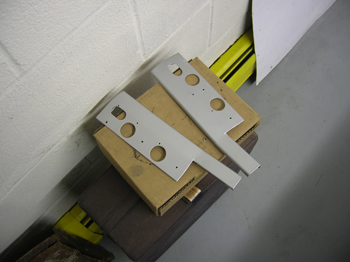 We used to play this game on this website guessing what the Ferrari part was. Well this time I'm stumped. Wayne Carini of Discovery HD fame painted a GTE for us, and these panels came back with the car. The funny thing is I had the same part for my car in a box when I was putting her together, and I had always assumed it was just a part that was mistakenly painted. Now we have the same parts painted for this GTE, and I still have not figured out where it goes. Anyone know?
Just a reminder, I'm looking for a new Vintage Ferrari Project. If you have, or know of a restoration project, please let me know. It would be great to restore another car on this website! My E-mail.
Previous Restoration Day
Next Restoration Day
Home page