Mystery Part Solved
9/30/09
Mystery Part Solved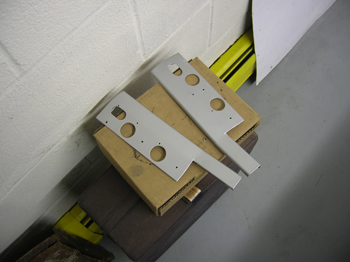 A couple of weeks ago I posted pictures of two trim pieces that I had no idea where they went on a GTE, but thanks to the Internet and helpful Ferrari owners, the mystery is solved!

These pieces mount on the inner door panel area, and seems to direct rain water away from the inside of the car.

We'll have to see if they work if this car ever sees any rain!

This car has not been started in a while since it's been at the paint shop, so we noticed the fuel gauge was not operating properly when the gas tank was filled. The gauge showed empty with the low fuel light always on even with a full tank of gasoline. After checking for the usual easy fixes, I found the problem was probably with the fuel sender mounted at the top of the tank. The tank on a GTE is locaed under the rear package shelf, so the rear seat has to be removed first. Although I was prepared to fight seized screws on the sender, I was pleasantly surprised by how easy everything came apart. Once I removed the sender, it was obvious what the problem was, a missing float! Someone wired a couple of Ping-Pong balls to the end of the sender arm, but they must have fallen or sunk inside the tank. We'll have to find something that works a little better than Ping-Pong balls!

Another car at François' shop was a two valve injected 308. I had done a major service on this car over a year ago, but the she was back with a no start issue. The car would crank, but there she just wouldn't start. François' suspicions of a bad fuel pump was confirmed when there was no fuel pressure at the engine. Thoughts of pulling the fuel pump and going home smelling like gasoline was starting to go through my head when I decided to check the easy things first. After checking the connection at the fuel pump while the car was cranked, we found no voltage to the pump. The fuses were all good, but I wanted to check the fuel pump relay. Luckily the owner's manual was in the car with a fuse panel diagram, so I swapped out the fuel pump relay with the power window relay that I knew was working. It was such a nice sound to hear the 308 come to life with such a simple fix, and I didn't even have to bathe in fuel!
Just a reminder, I'm looking for a new Vintage Ferrari Project. If you have, or know of a restoration project, please let me know. It would be great to restore another car on this website! My E-mail.
Previous Restoration Day
Next Restoration Day
Home page