Twin GTEs
10/13/09
Twin GTEs
We have a lot of silver cars at François' shop this week. I've been working on Scott's GTE 2953 (in the background with the hood scoop), and we're prepping Gary's GTE 3553 Cavallino in January. They are both Series II GTEs with the same color interior and paint schemes. A lot of viewers of this website often confuse these two cars when I write about them, but here's photographic proof that there are two cars!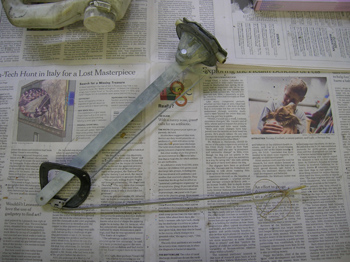 I had the rear seats and back panel out of 2953 to access the fuel sender and I got a good tip on where to get a replacement float.

Ford Model As use a float similar to the ones that were on the Ferrari. It's a little smaller than what was original, but should give enough buoyancy to give an accurate reading. The Model A suppliers sell either cork or polypropylene. I chose the poly float for modern fuel compatibility. Thanks for the tip Craig!
Someone had replaced the float before, and from the look of the armature wire, I bet they used a Ping-Pong ball! It broke free of the sender arm, and is now floating somewhere inside the gastank!

Moving on to 3553 I began removing the bumpers. They're going out for replating and should be back in time for Cavallino. The chrome on this car is a little weak, and we're hoping to gain a point on this car by having some of the chrome freshened up.
While Gary was driving 3553 for the summer, I had a copy of the nose pan from my car made. The boys at ERA did the fabrication, and it turned out great.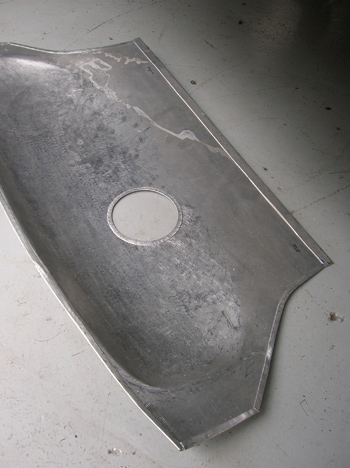 Teddy, ERA's chief fabricator, not only copied my nose pan exactly, but also made one better than the Ferrari Factory. I always feel badly when I have to cover nice metal fabrication with paint!

After a little tweaking I got the nose pan to fit pretty well to Gary's car. I marked and drilled mounting holes and set it aside for fresh coat of semi gloss paint. Maybe it should be powder coated…
Looking at this picture, I should probably have the front sway bar painted as well.

Gary's door frames also came out for the replating. Luckily with the GTE, the winder mechanism does not need to come out to pull the window and window frame. Anytime I can avoid pulling the window cables, I am blessed with not having to mess with a rat's nest of wire rope all twisted and tangled.

We have a lot of cars coming and going at François' and one future project that you'll be reading about is this 365GTC/4. It's been getting some front body work done at The Panel Shop, and is ready for the paint shop. We brought it to François' shop to disassemble the car the rest of the way so she can head out for paint.
Just a reminder, I'm looking for a new Vintage Ferrari Project. If you have, or know of a restoration project, please let me know. It would be great to restore another car on this website! My E-mail.
Previous Restoration Day
Next Restoration Day
Home page