Black Horse Garage
11/7/09
Black Horse Garage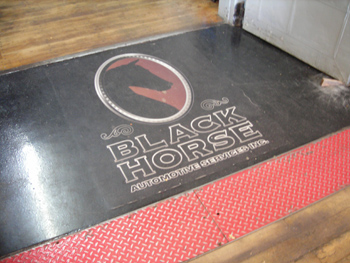 The Northeast Region Ferrari Club had an invitation for a shop tour of Black Horse Garage in Bridgeport CT, and it was a beautiful day for a drive.

The shop is located in the industrial section of Bridgeport where a former thriving manufacturing base exisited. Large warehouse space abounds and Black Horse moved into one of these old buildings a few years ago to expand their business. With so much space spread over two floors, small shops and work areas could be found in several rooms and corners of the building.

The tour took took us to see several projects ranging from Pre-War racers to modern exotics like this Jaguar XJ-220.

The Ferrari Club members were not without things to look at as well with plenty of Vintage Ferraris in various states of repair including this 330GTC in for a bare metal respray.

I drove my 330 America down for the 220 mile round trip, and she performed admirably except for a radiator leak that is getting worse! I noticed some small white deposits on the radiator fins over the summer, but it wasn't bad enough for me to do anything about it, but this last trip has convinced me it's time to pull the radiator.
I arrived at Black Horse, and my 330 America immediately began marking her territory with a green spot of anit-freeze! Overcoming my embarassment, I found only about four ounces of fluid dripped out, and there was plenty left in the radiator to get home. I'll have to remove the hood of the car to pull the radiator, but that'll have to be my next project!
Just a reminder, I'm looking for a new Vintage Ferrari Project. If you have, or know of a restoration project, please let me know. It would be great to restore another car on this website! My E-mail.
Previous Restoration Day
Next Restoration Day
Home page