Cavallino Road Trip
1/19/10
Road Trip to Cavallino, MD to GA

Photo R Faron
At 7am, we set off from Huntingtown, Maryland, headed for Savannah Georgia, 523 miles away. There was frost on the cars, but the weather was supposed to be nice.
I had mentioned on my Vintage Ferrari Forum that I was experiencing fuel pump issues, and my first phone call in the morning was from Todd in Indiana. He read the post and told me he was throwing a fresh mechanical fuel pump rebuild in his bag before leaving for Cavallino. So even before arriving in Florida, I had managed to secure parts to help keep my car on the road!

Whenever a group of cars travel together, there is always an adjustment period to see what is a comfortable pace for everyone. It soon became evident Tom Kizer was the slowest of the group with Mark and I pushing for some more speed. We were not expecting to fly down the interstate, but anything above the speed limit caused Tom K. to lag behind. The chatter across the radios soon became jokes made at Tom's expense, but Mr. Kizer took it all in good humor, and it certainly made the long boring trip on I95 go quicker.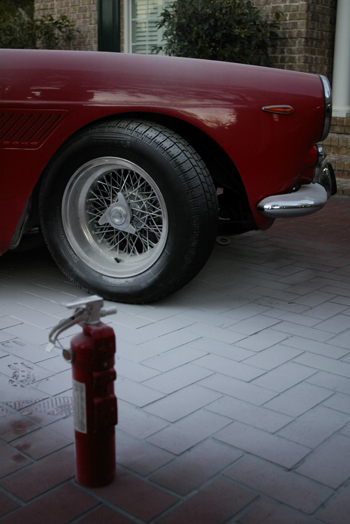 Photo R Faron
The ride down to Savannah was pretty much trouble free until the last mile. As I led the guys to my sister's house, I felt the brakes dragging a little bit. By the last 100 feet before the driveway, the brakes were nearly locked, but I managed to get the car into my sister's driveway. I shut the car down, and got out to take a look. Just as I walked around to the right side of the car, the front right rubber brake hose caught fire! I asked Rich to grab my fire extinguisher, and shot the powder in between the spokes of my front wheel. I could see the rotor was glowing a dull red, and every time the fire was extinguished, the heat from the rotor would reignite the hose. Mark grabbed his extinguisher as my extinguisher began to empty, but after the fourth shot of powder, the fire stayed out.


photo R Faron
It was probably one of the most dramatic entrances I've ever made and I hope I never have the opportunity to do it again! I felt worse about the powder all over my sister's driveway than the powder covering my car, but at least the 330 America didn't burn to the ground!
Not really understanding what had happened, I did the only thing I could: eat and drink my misery away.
Linda had prepared a wonderful Prime Rib, broccoli, and of course mashed potatoes! I was trying my best to have a good time over dinner and drinks, but I was realizing my car was not making it to Cavallino. When I had a chance I posted an update on my Forum to inform everyone.
Previous Restoration Day
Next Restoration Day
Home page