A Project 330
2/5/10
A Project 330
I met a new 330 owner in Cavallino down in Florida a week ago, and we made plans for me to go to New Jersey to look at his Ferrari. Al bought his car several months ago from California as a project car, and he is currently knee deep in the restoration. He received his car stripped and ready for paint, but mechanically, it needs a full rebuild. He has tried his best to take an inventory of all his parts, but there are a few parts that puzzled him. I offered to come down and help sort through the parts, and try to formulate a plan of attack to get this car back together.
The body and chassis on this car is in very good shape with very little rust, so Al is starting out with a very nice example of a Series II 330GT 2+2.

I spent several hours with the owner sorting through the various trim pieces and pointing out where most of them went, but there were a couple of pieces that were not familiar to me.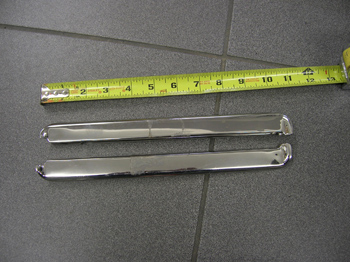 Mystery #1
I used to play a game on this website called "Name the Mystery Ferrari Part," and this would be a great time to play. If you know what this part is, you can answer in the Forum here.


Mystery #2
Dash brackets?


Mystery #3
trim clips of some sort.


Mystery #4
Where do these go?


Mystery #4
Another view.
Previous Restoration Day
Next Restoration Day
Home page