West Coast Party Plans
5/26/10
West Coast Party Plans
Zac Dugger, Tom Wilson, and I have been working hard at organizing this West Coast Party for July 10th and we're really excited. Zac sent me a list of Vendors he will have available at his shop for us to meet:
Car Detailing: Keith and Collin from Diamond Detail have agreed to come down and put on some demos
Metalwork: Jake's Custom Coachwork will be here with metal working displays
Paintwork: Peter Hognes Restorations will be here to go over aspects of top level paint work and what to look for
Driving Simulator: My friend Enrique has agreed to bring his race simulator trailer over for people to check out his full motion racing simulator that he builds for training the F1 drivers
Racing and support: I am going to talk to Chris Duggan at Cavallo Motorsports about have his transporter and some race cars over to go over that side of the Ferrari world.
Transportation Services: JP Transport can be here with their trucks to go over the costs of using a professional transportation company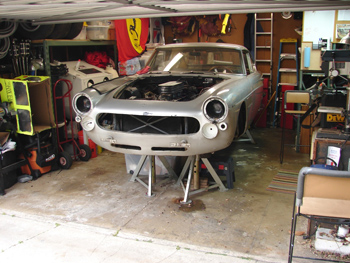 There will be several cars on display that Zac has at his shop, and we're even working on getting Tom Wilson's GTE down to the shop to do a side by side "before and after" comparison with Scott's Cavallino winning GTE 2169.

Zac's shop is on a large piece of property with plenty of room for parking. It's going to be a lot more than just a car show, but a very interactive event! If I weren't involved, I wouldn't miss it!
On Sunday July 11th, Zac's mapped out a drive for anyone who wants to join us for a drive through some Southern California back roads. Here's link to a Google Map of the route. I'm going to be bumming a ride with someone, but from the looks of previous drives Zac's done, there should be a good turn out.
Previous Restoration Day
Next Restoration Day
Home page