Mostly British, Part I
6/2/10
Mostly British, Part I

I headed north to visit a place I had heard of for many years, but never had a chance to see until now. Mostly British is owned by Fred Petroske, and has a stash of Vintage Ferrari parts along with his massive collection of British car parts. His shop is located in a little town off the St Lawrence Seaway in Upstate New York, about a four hour drive from my home in what I considered "Upstate NY!" Fred's within shooting distance of Canada, so he's pretty far upstate.
Petroske started his business in 1973 restoring, repairing, and selling parts for British cars. His Jaguar parts collection grew, along with Healeys, MGs, and TRs. During the collector car crash of the late 80s, Fred noticed how cheap derelict 60s Ferraris could be bought and sold, and began buying what he found. He's managed to carve a nice little business scouring the world for parts, and selling them to people in need.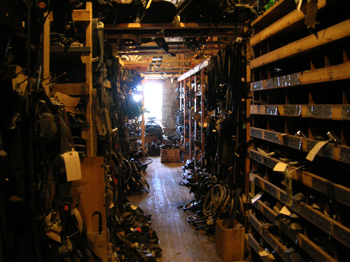 After many years of speaking to Fred on the phone, I thought it was about time we finally met, and Fred was kind enough to give me the grand tour of his stash.

Each shelf was another surprise, and we would stop and discuss the nuances of the parts. Not only did he have a collection of Blaupunkt radios, but a stack of various face plates. I know there were a couple of times I had a client or a fellow owner that needed a particular plate, and there it was in Fred's pile. I considered buying a couple, but I resisted the urge to start my own parts stash!

Not only was it amazing to see all the parts, but it was also very educational! I found a set of Series I GTE seats upholstered in blue velvet! It looked original, and I tried very hard to find a PF number on the seat, but was unsuccessful. Maybe next time, I'll be a little more persistent and take these seats out in the light to have a closer look!

The organization was pretty good with areas set up for doors, trim pieces, and mechanical parts. The Jaguar parts far out numbered the Ferrari parts, but if you looked carefully, you could find the row of GTE and 330 parts.

Some of Fred's parts had a better story than any other use. This radiator came from 365GT 2+2 that was found in tidal river, missing for years. The only foul play involved was destruction of a good car by its owner who was probably trying to avoid paying taxes on the car. When Fred got the car, he said everything was rotted. Any aluminum was completely gone, including most of the engine block and timing chest. He did manage to salvage the crank and some of the trim pieces. The Borrani rims were gone with only the spokes sticking out in mid air!
I would have loved to have seen pictures.
To Be Continued…
Previous Restoration Day
Next Restoration Day
Home page