Mostly British, Part II
6/3/10
Mostly British II
My tour continued with Fred Petroski's Mostly British. Even though it was mostly British, there were shelves of Ferrari parts mixed in.

In his wheel room I found a couple of sets of Borranis along with alloys for some of the V-8 Ferraris.

In a second building I found several Ferrari 2+2 bodies in various states of dismantling. I wish I had more time to crawl over these cars to find PF numbers. I tried to look for some in the obvious places, but wasn't too successful. It's a good thing I'm up to date with my tetanus shots!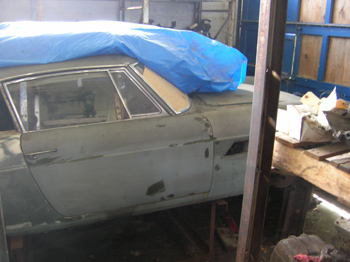 A third building had even more interesting stuff including this pretty straight 250GTE. It has lost it's drive train already, but is too nice to end up in the other building with all the cut up cars. Fred is thinking of making some kind of "bitsa" Ferrari with the pieces he has in his collection, but until then, she waits.

Petroske is always buying and selling parts. He recently picked up this mystery transaxle, but has not been able to figure out what it belongs to. There are no obvious markings. I told him that this website attracts some pretty knowledgeable people, and perhaps some sharp eyed viewer might know where it belongs.

It has inboard Dunlop brakes, but that doesn't necessarily mean it's of British origin.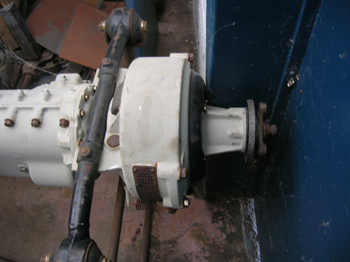 If anyone knows what this is, e-mail me.
Previous Restoration Day
Next Restoration Day
Home page