Welding the Alpine and more West Coast Plans
6/24/10
Welding the Alpine and more West Coast plans.
I was tuning the carburetors on my Sunbeam Alpine the other day, and noticed a cracked weld on a brace in the engine compartment. My Sunbeam is a little rough looking, but it's an unrestored car with 40K miles. It's mostly original and I often struggle with whether to restore it. The paint is faded, and she has her share of dents and some fender rust, but the chassis and interior are in great shape. Without a decision on what to do, I continue to drive and enjoy her, using her primarily for local errands and ice cream runs with my daughter.
I drove down to my friend Jay's house to have him weld the brace and to see what he had going on at his home shop. After we moved his wife's MGA outside my Alpine was moved into position.

Jay's a fellow Ferrari owner that also has a love for British cars. He owns a few MGs and Land Rovers, and has restored several of his own and customer's cars when he's not working at his day job.

After covering the area with a weld blanket, we cleaned the area with the broken weld.

The combination of a poor original weld and a large gap, the bracket was destined to crack, but with much better penetration on the new weld, the bracket was good to go. Now I have to figure out what to do with touching up the original paint near the weld!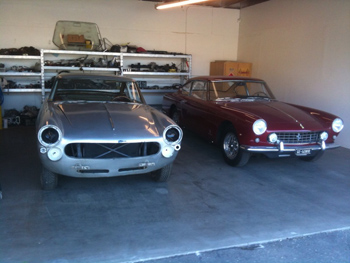 Tom Wilson's GTE has been delivered to Zac's shop for the show on July 10th. Karp's Brake Service along with other vendors are planning to use these two cars to demonstrate what is involved in restoring a Vintage Ferrari. As much as I'm looking forward to co-hosting this party, I'm looking forward to meeting the vendors and learning something!
Reminder: July 10th, 2010, Oceanside, CA, Inaugural Zac Dugger, Tom Wilson, and Tomyang.net West Coast Party. Click here for more details!
Previous Restoration Day
Next Restoration Day
Home page