So. California Sunday Drive
7/11/10
So California Sunday Drive
Some of us met back at Zac's shop on Sunday morning for a drive he planned for the back roads behind Oceanside CA. A map was distributed, and the plan was to meet for a brunch at The Pine Hill's Lodge near Julian. Here's a rough outline of the route:

DGR Performance 1555 1/2 S Coast Highway Oceanside, CA 92054
Palomar Mountain
Julian
Pine Hills Lodge
Rancho Sante Fe
DGR Performance 1555 1/2 South Coast Highway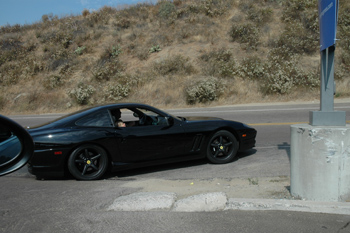 Zac led the way in his 550 Maranello. It's a "Triple Black" car with black paint, black interior, and black wheels, and if that's not enough black, it's also got "limo black" window tinting. It might not match Zac's "surfer dude" image, but it makes for good contrast when he steps out of the car in shorts and flip flops!

Our first stop on the way to Palomar Mountain had everyone out of their cars chatting about…cars. As much as we were excited to drive, everyone couldn't stop and look at each other's cars!

The oldest car on our drive was this beautiful 206 Dino. You can see why it was so hard not to stop and look at this car!

Tom Wilson and his daughter Colleen drove the chase vehicle but mounted a video recorder on the roof of their A6 Wagon in case they were able to keep up with the Ferraris. We'll have to see how the videos came out.

Here's Sam in his 355GTB.

Scott chose the 430 Scuderia over his GTE for this drive, and I can see why. This car was made for roads like these, and Scott was thoroughly enjoying himself. Since his passenger seat was available, it rarely went empty, and Scott was happy to share in the ride. I managed to record a podcast of my ride, so look for it soon!

There were a couple non Ferraris, but were great to have them along. This 850 BMW tore up the roads right along with us!

Wes and Shannon are "in between Ferraris," and brought out their Porsche 993 4S. They even let me drive her while they took the opportunity to drive Zac's 550 Maranello. I loved driving the 993 and found its all wheel drive system balanced and yet non intrusive on the sharp transitions. The confidence in this car made it much easier to drive fast when compared to the '72 911 I once owned, but the refinement made me want something a little more raw. I enthusiastically praised their car when I gave back the keys, but I think after watching everyone in their Ferraris, Wes may not be for long without a prancing horse in his stable again!

Here's John leading in his 308 followed by Ed in his 360 Modena. These guys drove out from Arizona to join us this weekend!
We had a nice brunch at the Pine Hills Lodge outside of Julian, and they managed to seat 25 of us without problem on a tranquil deck out back. After our meal, we stopped in Julian for some root beer floats and headed for the coast.

The drive to the coast was even better than the drive up with a great combination of sharp switchback sections ending in long straights with safe passing zones. Some of the passengers may have complained of the tossing and turning, but the drivers were too distracted to care!

We ended the day with a great dinner on the beach in Del Mar hosted by Tom Wilson and his wife Paula. Their house is right on the beach, and was designed specifically for entertaining. I don't think I could have had a better Southern California experience than what the Wilsons showed me!
Previous Restoration Day
Next Restoration Day
Home page