Bobileff and Booth
7/12/10
Bobileff and Booth
While I was in Southern California, I wanted to see a few shops, so Tom Wilson, Zac Dugger, and I spent a day touring the ones in the area. We stopped by Symbolic Motor cars to see the progress on a Dino Zac was having painted, but I didn't get to photograph what I saw.

Gary Bobileff's shop was in San Diego, so we arranged for a visit.

The oldest Ferraris on display was from the 70s, but the Bobileff Motorcar Company works on them all.

Gary was out back working on a Maserati Quattroporte with a customer that drove down from LA waiting for it out front, so he was a little busy. Luckily Carlo was available to show us around while Gary worked.

Besides restorations and service, there are also projects like this one which was a normal 308 that will be converted into some kind of 288GTO replica.

A fairly rare Apollo convertible was undergoing a restoration. It's deep purple color should look spectacular when she's done.

I also marveled at the intake manifold sitting over the engine. I hope I get a chance to see this engine some day when it is all done!

It's not every day one sees a Lamborghini Isolero, but at Bobileff's shop we found three in various states of restoration. In the past several years, Gary's shop has become "the shop" for Lamborghinis.

Murias, as rare as they are, are a common sight all around the shop.

Here's another Lamborghini, a 400GT in the paint and body area.
I want to thank Carlo and Gary for allowing us the tour of the shop. Great stuff!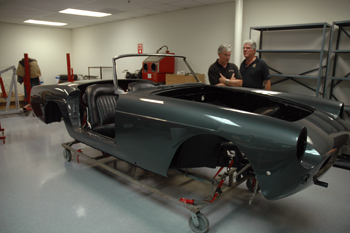 Our final stop was in in Vista to visit my friend Dave Booth. Nestled inside a 25,000 warehouse that houses Dave's business is his personal garage where he keeps his cars, one of them being a Series II 250 Pininfarina Cabriolet. Dave owned and drove this car for many years, but decided to restore the car several years ago. Although there is much still to do, Zac and I felt when a car gets to this point after fresh paint, the momentum builds towards the finish!

On the other side of the shop was a GTE that I've heard about for years. Dave bought this car many years ago from the East Coast, and with any luck, will one day get to it after the PF Cab.

This car lost its original engine by the time Dave bought the car, but he managed to buy a 330 America engine that became available. With a change in the position of the motor mounts, Dave should have a nice 330 America replica that'll be far more respectful than a GTO clone!
Previous Restoration Day
Next Restoration Day
Home page