Karp's Power Brakes
7/16/10
Karp's Power Brakes
I had one more stop to make in Southern California on a marathon day of shop tours before an overnight flight back to New York. Ron Karp of Karp's Brake Service was nice enough to meet Tom Wilson and me after hours at his shop in Upland, California.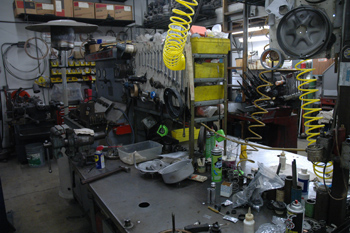 After seeing his presentation at the West Coast Gathering, I was interested in seeing his facility. It's a small shop with several work stations for a few of guys working on various brake systems. Each station is capable of rebuilding a complete system with necessary tools and testing equipment.

Ron started the business rebuilding power brake systems for American cars. He started collecting and stocking power brake units from all sorts of cars so he could offer a quick turn around for his customers. The cores on the shelves are cleaned and ready to be rebuilt as soon as an old one is sent in by the customer. If the customer wants the same one returned, they can rebuild it as well, but cores are ready to send out to speed up the process.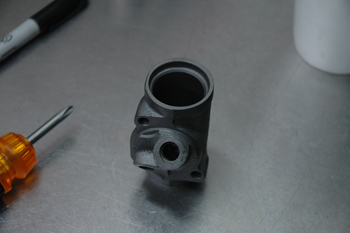 Ron's business turned to resleeving wheel cylinders and brake calipers several years ago, and has become the best guy for stainless steel sleeves. He showed us the process on a wheel cylinder he had in the queue that needed a new sleeve. After the part is decreased and media blasted, it's ready for sleeving.

A special machine aligns the wheel cylinder to the lathe so the cutting head can cut the bore precisely.

The cutting head then removes enough material in the wheel cylinder to accept a new stainless steel sleeve.

With the special jig, the cutters do their job with great precision.

A corresponding sleeve made out of stainless is prepared to be inserted into the bore made in the wheel cylinder. A hole is drilled into the sleeve to match the holes for the hydraulic lines.

A secret bonding liquid is used to secure an already tight fitting sleeve in the wheel cylinder.

A hydraulic press pushed the sleeve all the way home, and it's checked for equal depth in the cylinder.

Ron is very meticulous with what goes into his rebuilds, and he special orders tubing made to his specifications. Trying to keep prices down, large quantities are ordered in all the sizes he needs, but each batch is tested in house to insure the inserts will work without problems. It's quality control like this that insures Karps gives a good and reliable rebuild.

Karps also stocks an unbelievable amount of seals for master cylinders and power brakes. They don't sell these to the public, but keeps them available for just about any rebuild that comes into the shop.

It's guys like these that I'm proud are still in business here in the USA. There was a time when machinists and craftsmen like this were in every major metropolitan area, but with everyone looking for higher education and easy money, this type of work has no skilled craftsmen to carry on in the work. Asian markets have absorbed much of this work, and the few shops that do this kind of work in the US lower their quality to stay competitive. In an economic down turn, it was nice to see Karps so busy because people still recognize quality.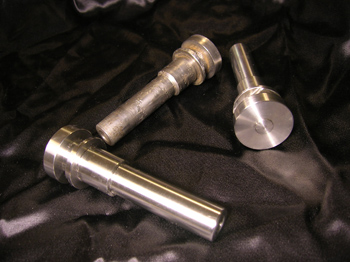 Ron and I commiserated in our disappointment in American manufacturing. When I sent him the SS piston made by Morten, my Danish friend that owns a machine shop in Denmark, Ron complained how difficult it is to get an American company to take on a job like that, and at that kind of quality. It's definitely a world economy, but what are we going to do in the US to compete?

As I poked around the shop, I recognized some Ferrari parts in a tray. Upon closer inspection, I noticed the Bonaldi Booster was from a shop I know well from the East Coast! The note exclaimed that this booster was sent to one of Karp's competitors for rebuilding, and it came back non functioning. They gave up on the other rebuilder and asked Karps to take a look. I had Ron look at it, and within 2 minutes he found two seals installed backwards in this unit. When Ron sees such carelessness and no post rebuild testing, he will completely inspect and rebuild this unit to insure the customer gets a working booster when it's all done. It amazes me that people still use that other shop!

Ron is the guy I chose to make new seals for my equalizer, and another Ferrari shop has sent him their equalizer for rebuilding. Soon, he'll have the seals made, and not only will my car be back on the road, but so with other Vintage Ferraris that need this unavailable seal!
Thanks Ron for doing what you do!
Previous Restoration Day
Next Restoration Day
Home page