Laguna Seca Racetrack and Concours D'Lemons
8/14/10
Laguna Seca Racetrack and Concours D'Lemons
The popular day for the track is Saturday, and I joined the crowds to see the sights. The club parking area always has some interesting cars, and this year I found the largest collection of Opel GTs I've ever seen.

The horsepower corner had Panteras, a Mangusta and an Ultima GTR.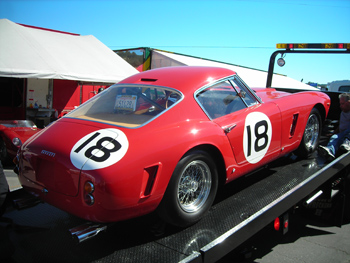 In the Paddock there is always something interesting to see. This Ferrari SWB was being loaded onto a flatbed, but noticed something interesting on the steering wheel.

There was a monster sized spacer on this car. I've seen spacers 1/2 inch thick, but this one had to be at least three inches of billet aluminum!

My friend Steve was driving a very interesting car for the weekend. This 250P looked fantastic, and Steve was nice enough to open the engine cover to show us the mechanical bits.

The details on this car are beautiful, and the guys worked really hard to get this car to Laguna Seca.

A nice collection of Bugattis were parked together in the paddock, but I was drawn to the patina of this car. Older unrestored cars that show every blemish and mark made by previous owners really interest me. We are all stewards of our cars, and someone someday will own them after we're gone, but with original cars, the evidence of our ownership lives on!

With original cars I always imagine having one parked like this in the paddock visited by a previous owner looking for the little mark or dent they put on the car years ago. It would be like a reunion with an old friend. Once these cars are restored, all that history is obliterated. People who collect antique furniture get it, and it should be the same with cars that can be preserved.

A few miles down the road was the Concours d'Lemons, and this year I made it a point to make a "fly by" to check it out! Where else can you see a Reliant Robin parked next to a Bentley? This show is in its second year, and is a great place for cars (ahem) not normally found at the other shows on the Peninsula. The Bentley must have gotten lost!

The "tongue in cheek" attitude made this show a lot of fun. No one took their car very seriously and everyone was there to have some fun. Cars were parked mostly according to nationality, and the sections were labeled with a light hearted humor. Their French section was marked "Unmitigated Gaul."

There were still some fantastic examples to see including this rough Bugeye Sprite. The patchwork of panels and parts showed a diligence in keeping this car on the road, and the fun it must be to drive it as is!

This show attracts a variety of cars you may never see anywhere else in one place. The American Motors Corporation may no longer be around, but they are certainly iconic for the 70s and 80s. It was refreshing to see such well preserved examples of a Pacer and an Eagle. The Eagle was was a 4wd wagon, produced a decade before the popularity of the sport utility. Don't forget, the JEEP was sold through AMC before Chrysler bought the name and the tooling!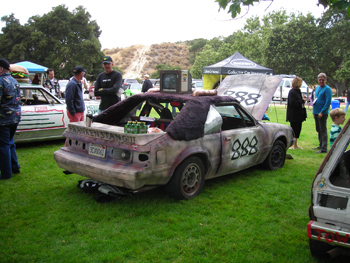 There was a whole section for 24 of Lemons race cars. Many competitors met at the Lemon show to bask in the glory of the previous week's race at Thunderhill. Part "art car," part race car, these cars are an eye full, and their owners are just as colorful. I can only imagine what it would be like at a race!

I ran into an East Coast friend,Wayne Carini, shooting an episode of "Chasing Classic Cars." on Discovery HD. Instead of finding a million dollar Bugatti for his show, Wayne and his producer Jim decided to have some fun with the Lemon show. They rented a car out of the back of a local used car lot to enter in the show! It was a Volvo P1800 that someone added a very nautical looking targa top over the front passenger compartment. Wayne is showing me in this picture the items they bought to bribe the judges for a good placing in the winner's circle!

As much as the atmosphere for this show laid back and fun, I was stopped in my tracks by this DKW. This very nice example was quietly sitting among all the art cars and loud paint jobs, and I stopped to look at something I never get to see. DKW was a German company building motorcycles and cars that was eventually absorbed by Audi, but they built cars into the late 60s pioneering front wheel drive since the 30s.

This three cylinder two stroke engine had some very interesting engineering elements including tiny separate Bosch coils firing directly into each cylinder. Without a distributor, I would have loved to have seen how it all worked.
Concourse D'Lemons is definitely worth a side trip on Saturday of the Monterey weekend away from all the high brow cars of all the other shows. There's an interesting dichotomy about this show, however, that I'm not sure needs to change. On one hand, it's a big party with the feel of a parking lot to a "Grateful Dead" Concert, but on the other hand, it's a gathering place for cars that may have been left out of the other shows during the Monterey Weekend, and yet are great cars in their own right. Either way, it was fun to see, and if they keep on having it, it'll be added to my list of things to do while out in Monterey for the weekend!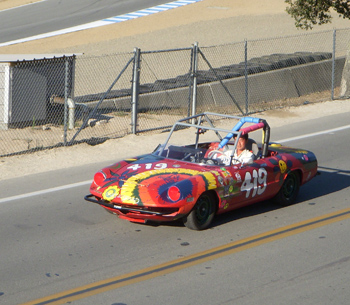 photo Wayne Craig
At the end of the day, we returned to the camper for the usual Saturday night post race day party. Before we got heavy into Rad's private stash of homemade wine (If you can call 60 cases a year home made!), I took the Alfa out for spin on the roads around Laguna Seca! The 2000cc engine pulled real well, and with all the extraneous pieces taken out of the car, the handling is great! It might not keep up with the BMW E30s, but the fun factor is just as high!
Previous Restoration Day
Next Restoration Day
Home page